Single serve coffee maker reduces wastage of coffee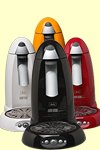 Single serve coffee maker is a technological lead beyond the super automatic espresso machine where a single button can dispense a good espresso.
It combines the advantages of fully automatic with the convenience of providing 1 cup when required.
Although they have been around for some time, recently the explosive growth can be attributed to aggressive marketing by some of the roasting groups, i.e. Nestle, Sara Lee, Proctor & Gamble and Kraft.
---


A quick and good recommendation? Keurig coffee brewer
This is oncoffeemakers take for folks that do not want to read on but want to know and purchase a single serve that is reliable, easy to use and has garned many positive reviews.

Read about the reviews at amazon (the link above), and compared the pricing from different suppliers, amazon gives great discount from time to time. Or, you can Search for More Single Serve Coffee brewers here
---
How to make coffee without machine? 
Learn about this and more at our free Coffee Appreciation Class 
---
Advantages
Single serve coffee maker do away with the grinder by capsuling grounded coffee in specifically measured pods. All you need to do is to insert the capsule into the machine, the water controlled and out come a espresso or long black depending on the water injected.
Do you know? One of the most popular single cup coffee machine is Keurig b40


They are much smaller than espresso machine so they are useful for homes that want their good espresso, but do not have the foot prints for big machines, bunn commercial coffee maker is a good example of "smallness".
These machines strategic fit for homes goes beyond spaces they occupied, they are able to eliminate the wastages that for so many years plagued small households -how many of you have wasted half a pot of coffee just because you wanted 1 cup?
Nespresso, Krups, senseo, Melita coffee maker, in fact all single serve suppliers boasted of the freshest coffee. By using hematic capsules, the freshly roasted and ground coffee beans are sealed into the pods which according to the companies, would remain fresh for at least 6 months.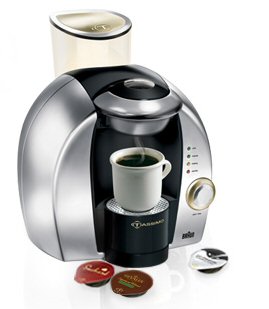 **Coffee makers confuses you? Sometimes "knowing" how to brew coffee is enough to get great coffee. Ever wonder about the best temperature or best conditions to brew coffee? This free coffee course would provide some answer.
Disadvantages
Although so much smaller than your usual automatic espresso machines, single serve coffee maker does not differ much in terms of pricing. The more sophisticated ones that can froth cappuccino and store the cold milk might even be more pricey. Another drawback would be the mutually closed systems, i.e.
Kuerig's capsule will not fit in Krup's machine. Therefore, you need to be very sure you like the available range of coffees before buying a machine that would probably not be able to take anything else!
Of course, with so much technology thrown into the gourmet coffee pods, the pods itself does not comes cheap too!
There is the myth that this one cup coffee machine pales in taste when compared to its automatic espresso cousin. This is not true, it seems to be so because of 1 variable -cup temperature. A cold cup affects the temperature of the coffee, try warming the cup and savor the difference!
To me, a single serve coffee maker does a good cuppa , however if it is cost you are looking at, then bunn or the traditional coffee makers is for you, and if it is variety of coffees that you like to try then this solution might be fitting.

In recent years, the closed system of single serve brewers have been "opened", with systems such as coffee ducks, perfect pods, and even keurig has their own refill k-cups. The articles below would give you more information...
Search for More Single Cup Coffee Makers here
or look through the articles below before making the decision to purchase.
Hope this article has been useful assisting you in finding that One cup coffee machine, here are some more articles that can further value add to you:

Custom Search
---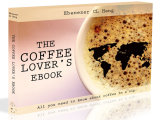 Love coffee? Here is some more "free stuff"! Learn more with this ebook (is free!)

---

Other Single serve coffee maker related articles

Divina single serve coffee brewer, is not the best but you would like it
It is hard to answer if divina single serve coffee brewer is a good espresso maker, taking into consideration that there are lots of espresso machines in Singapore.


Differences Between the Two Senseo Coffee Makers?
Two of the more popular senseo coffee makers are HD 7810/65 and HD 7832/55, learn about their features and attributes and check out which one is more suitable for you...


What Are The Coffee Singles Format?
Most folks thought that coffee singles format are all about single serve coffee maker. Not so, there are quite a few format around.


Why Choose Flavia SB100?
Flavia SB100 is an easy to use single serve coffee maker that is very popular within the office sector, other than providing excellent coffee, it also serves the famed Dove chocolate


Why No K Cup Brewer in Your Country?
If you are wondering what is a k cup brewer, then it is obvious that the keurig coffee maker is not in your country. And here are some reasons why it is not there...


When Would You Choose Keurig B60 Coffee Maker
Looking at a keurig b60 coffee maker, one might be hard press to find a difference between this and a b40 which is lower in cost, so why buy a keurig b60?


What Is Good About Melitta One?
Melitta one greatest value add has to be its ease of use. Being a single serve coffee maker, that is one the biggest draw.


A Capsule Machine Should Really Be This...
When people talk about capsule machine, they meant nespresso coffee maker, do you know that? And do you know how good and extensive is nespresso range?


A Glance at Tassimo Coffee
The value add of tassimo coffee machine lies in its range of coffee, and the brand that is in its each individual t discs...


Why Coffee K Cup Produce Is Better
Is the coffee k cup produces really better? Based on what are we saying that, is that the reason why keurig coffee maker is so popular? Find out...


Coffee Maker One Cup Format Is Better?
Here are some reasons why coffee maker one cup format are good. Users preferred these single cup coffee machine for a reason, and here are a few...


The Single Serving Coffee Maker That Can Make Iced Coffee!
Which single serving coffee maker, isn't all single cup coffee machine meant to only dispense hot beverage? Well, you need to check out this single cup coffee brewer...


Coffee Maker Senseo Does Is Still Cheaper?
Ever wonder why the sales for coffee maker senseo is so stable, it might have something to do with its price that is much lower than keurig, tassimo and nespresso...


A Good Individual Coffee Maker –Keurig
An individual coffee maker review on keurig, shows you why this is the most popular single cup coffee maker and why if you are looking for single serve coffee maker, this is the choice.


Lesser Known One Cup Coffee Machines
You should have heard of one cup coffee machines such as keurig, nespresso, senseo but what about simplehuman or flavia?


What Is A Mypressi Twist?
If you are always on the move and is looking for a espresso maker that can travel with you, mypressi twist should be what you are looking at(not even a single serve coffee maker can do that)...


Single Pod Brewer or Mypressi, which is More Portable?
People that likes convenience now have a choice of single pod brewer such as keurig or portable espresso maker such as mypressi. So, which is better?


Flavia coffee system -now you can really get free coffee!
2 years ago, free coffee in Singapore was a concept, now wih flavia coffee system it is a reality. Employees get free coffee, employers get more businesses...


What is good about Nespresso Coffee Machine?
You probably heard about nespresso coffee machine, you know that it is good. It is definitely popular, so why it is good and why it is a popular single cup coffee machine?


The Best Coffee Maker Philips has produced
There are shopper that only goes for coffee maker philips company produced, and the most popular model would be the senseo. And here we explore the reason why it is so popular


Instant Coffee Maker Means Single Serve Brewer
When people are looking for instant coffee maker, they are most likely referring to the single serve coffee maker. This is because the single serve is the most instant when it comes to coffee brewing...


9 Out of the 10 Best Coffee Makers of 2009 Have One Thing in Common
I just thought it is interesting to note that 9 out of 10 Best Coffee Makers of 2009 are single serve coffee makers. Why are they so popular?


Black & Decker Home Cafe
To compete in the coffee makers industry, you need to have a single serve coffee maker solution, and for black and decker, it would be the home cafe series


Grindmaster Gpod -Single Cup Consumer Pod Brewing System
Some folks might think of grindmaster gpod as just another single cup coffee maker, but it is actually more than that.


This single cup coffeemaker is below $20
Impossible that single cup coffee maker would retail for less than $20! Well, if you are thinking about keurig, senseo or the like, then no, then again I am not really referring to them...


Another One cup coffeemaker that is below $20!
There is this one cup coffeemaker that is below $20, is portable, makes great coffee, comes from a reputable brand -so would you be interested in it?


The most popular single serving coffee?
How do you know which is the most popular single serving coffee system? It is Keurig with its sleek marketing, or Senseo with its huge following?


Looking for this blue coffee maker
People look for a blue coffee maker because the image of the coffee machine is so strong in their mind that even if they cannot remember the coffee brew name, they remembers how it look like


NexPod for Nespresso: freedom of Espresso.
Letter from nexpod creator, detailing their creation for the single serve coffee maker -nespresso machine


Single cup coffee brewers is bad if...
Despite raving reviews about single cup coffee brewers, this machine is not meant for any occasions and not everyone would love it.


Get single cup coffee machines coffee in your office with these 3 reasons...
Getting single cup coffee machine's coffee in office is not easy, we show you how to convince your management in this article


Is single coffee maker really so good?
If you shopped for coffee makers, you would definitely come across single coffee maker, do you want to know why they are so popular?


Single serve coffee refills for Senseo?
Single serve coffee pods are convenient. However, choices are limited, but now with a newer innovation, you can probably use any coffee for Senseo!


Finding single cup coffee to suit your taste?
Single cup coffee is getting difficult to choose as with their numerous brands and blends. Here, we assist you by breaking it into 3 segments.


A single cup coffee maker secret
Single cup coffee maker main drawback remains to be its closed system,learned about this secret that would tell you how to circumvent this.


Why Braun tassimo should be in your house?
Braun tassimo is one of the single serve coffee maker that have the most extensive range, would you want to have it?


Keurig single cup coffee maker is in my favorite hotel!
Keurig single cup coffee maker now has a B130 that is designed specifically for hotel's operation, soon, we would be able to enjoy coffee from keurig even away from homes...


Among pod coffee makers, have you heard of one by bosch
There is a new player among the pod coffee makers, have you heard of bosch single serve coffee maker?


Should get free pod coffee maker or the coffee pods?
Companies are offering choices of free pod coffee maker or free coffee pods, so which one is a better deal?


Best single cup coffee maker has the "many" and the "large"!
Best single cup coffee maker should be able to use any coffee pods and have large water tank, don't you think so?


Single espresso coffee maker that cost more than $10000!
An espresso coffee maker that cost more than $5000 is consider an expensive buy, and here I am highlighting a single serve coffee maker with a price tag of more than $10000!


Which braun coffee maker would you get?
Braun is not really known for its coffee makers, and many probably do not know about this, but Braun is making waves in the single serve industry...


Coffee pod single cup maker from Grindmaster gives the best cuppa!
Coffee pod single cup maker, G-pod from Grindmaster with its unique ability allows you to find and get the best coffee...


Single cup coffee maker, braun makes can save you more than money!
The single cup coffee maker, Braun built not only saves you some money (compared to Starbucks). It provides quality cuppa from the convenience of your own home.


Coffee folgers single better your health
Coffee folgers single is lower in cost, more flexible and supposed to be better for your health -find out how...


Keurig coffee maker is right, just right for you.
The Keurig Coffee maker, B70 has a host of single serve coffee maker's function, but really it is its quietness that you want...


Espresso machine suppliers' popularity might find you that good single serve coffee maker!
Espresso machine suppliers has been producing single serve to compete, and knowing the most popular one might point you in the direction of a good one cup coffee machine...


Tassimo machine might be your solution to froth your cappuccino!
Tassimo machine could be the easy one to froth that cappuccino, something that is difficult even with traditional capuccino machines...


Choosing single cup coffee makers becomes easy...,
Too many single cup coffee makers to choose from? Let me make it easy for you and group all into just 3 choices!


Three Simple Reasons Why Keurig Elite B40 Is Better
Most coffee drinkers know that keurig is better, but do you also know that the most popular model is the keurig elite b40?


More coffee makers are turning into this...
Now, there are definitely more coffee makers being used in homes that cafes and one of the genre of coffee machine that assist in this growth is the single serve coffee makers.


Why K Cup Coffee Makers are so popular
K Cup Coffee Makers, also known as keurig is a popular coffee brewer. This is because of it easy to use, easy to maintain machine that is relatively low cost


Single serve coffee versus under cabinet machine
The comparision between single serve coffee makers and under cabinet coffee machine would highlight a crucial factor that many people has missed.


Can any single cup coffee machine be lousy?
If you are worried about getting a single cup coffee machine that would not fit into your lifestyle, you might be worrying unduly.


Single serve coffee machine is not for you if...
While we know that the single serve coffee machine is easy to use and has a lot of value add, there remains a group of people that would want be using this


Single cup coffee maker review in 3 steps
If you are looking forward to a good single cup coffee maker review to assist you in finding your choice machine, this might be the article.


Pod coffee is for those that loves to drink coffee
If you are wondering whether pod coffee maker is a machine that you should get, read on to see if you fit the criteria.


The coffee maker single brew competitive advantage
Personally, I think the coffee maker single brew is the best example for a marketing success story, read on to find out why


A Coffee Pod Machine that can also uses Coffee ground
Finally, a machine that mitigate the problem of exclusivity of One Cup coffee machine, Cuisinart SS-1 allows you to use any coffee ground you like!




This article might or might not be sufficient for your single serve coffee maker search -tell us more, we hope to be able to collate and get together a report or sort to better the coffee drinking experience...
---

Any story on single cup coffee machine?
You know about it, do not know about it, have questions about it -just post it here...
What Other Visitors Have Said
Click below to see contributions from other visitors to this page...

---
---
About US | OCM Profile
OCM (OnCoffeeMakers.com) was started in 2007 with the first webpage about coffee machines. And for a number of years, we focused on helping people find their desired coffee machine (we still are helping folks with that! So, if you are looking for coffee machines for office or restaurants - check out the link). 
In 2010, we started getting enquiries on restaurant marketing and we start to help food and beverage brands with their marketing. Below are campaigns and events that we have done over the years: 
OCM's campaigns: F&B Marketing Ideas by OCM 
OCM's Events: F&B Industry events by or with OCM
Check out this restaurant marketing guide to learn more about the many campaigns and companies we have worked with. 
Since then, we have also created many marketing workshops and classes for the F&B industry. Many of these modules are still running in tertiary institutions such as Temasek Polytechnic Skillsfuture Academy and also ITE College East COC classes, below are some snippets of our lectures and workshops: 
OCM's F&B workshops: Food and Beverage Marketing Lectures | Workshops - click to watch classes on customer journey map, JTBD and more. 
So, if you are looking for industry practitioners to help you scale your coffee or F&B businesses, do drop us a message or book an appointment. Do also check out our various social media platforms on regular F&B and coffee market updates: 
For regular coffee (F&B) related videos: OCM Youtube
For Daily Coffee Inspiration (fun coffee content): OCM IG
For insights into the coffee (F&B) industry: OCM LinkedIN 
PS: For the coffee lovers, we continue to share coffee articles (and videos) and have also started a free coffee class section (with free online coffee training supported by coffee partners).

---
OCM Recommends
Latest event/Webinar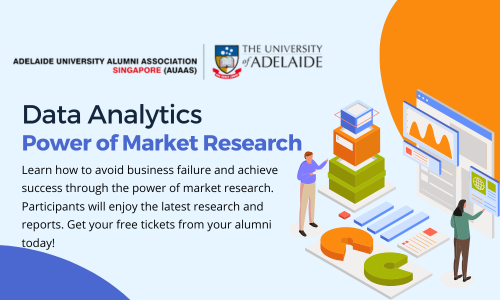 Learn more about the event on The Power of Market Research organised by Alumni of Adelaide University. 

**Gain insights into Singapore Industry with a free F&B industry report valued at $495. 
See you on 24 August 1630 hr. (Sign up below)
Free tickets code: adelaide0823
---
Starting a coffee shop?: Free Cafe Setup cost Calculator
---
---
---
---
Featured coffee brewing method: How to prepare V60 Coffee? 
Previously: Making Coffee with a Coffee Sock. 
Sep 18, 23 08:24 PM

how many customers does a coffee shop have per day

Sep 18, 23 05:44 AM

We all know that things are sold at different prices at different locations. For example, a can of Coca Cola will cost more if you buy it in a cafe versus a coffee shop in Singapore

Aug 31, 23 01:01 AM

Build your business with our coffee consultants, who helm from MNC, teach in tertiary institutions and are always invited to speak at coffee events.
Featured: Office Coffee Machines
Follow Oncoffeemakers.com's board Office Coffee Machines | Singapore on Pinterest.
Do check out other cool boards such as the one all on how to make coffee and drip coffee.
---
Food and Beverage (F&B) Articles 
Sustainability Practices in Food Service 

3 Free Restaurant Marketing Ideas 
Singapore Cafes Reviews -Can they be Trusted? 
Location, location, location might be a myth! 
Walmart and Walter -The Power of Social Media! 
Importance of value pricing for Cafes In Singapore
Why Nescafe is still the Largest Roaster in the World?
Everyone likes Starbucks -here's why
Is your Cafe location an asset or a liability? 
Location myopia: why good anchor tenant might not be good? 
Measuring the Location attractiveness index. 
Social Media Crisis Management for Cafes in Singapore
Why I stopped Selling Social Media?