The coffee maker single brew competitive advantage






Some call it the coffee maker single brew, others know it as the single cup coffee maker but regardless, they would have heard of how crazily popular this coffee machine is. This is a machine that was totally unheard of until the 1990's and it has within a span of less than 10 years occupied close to 40% of the world coffee makers' market.
Now, that is remarkable for the
coffee maker single
brew. It is very nondescript, very simple looking and does not seems to have the bells and whistles of the fully automatic espresso machine, so what is the factors that are drawings droves of consumers to this genre of machine?
If you read through my articles, I have covered many good points about this machine, so if you are someone that studied marketing, the first "P", that is product is very well done. In fact, the single serve coffee maker can be considered a true marketing success story.
When it comes to the next "P". pricing, a keurig coffee maker b40 that has all the necessary features to brew great coffee is about the pricing of a programmable drip filter coffee brewer. So, which one would you want to get? A machine that is able to brew you espresso easily or a brewer that would requires you to put in lots of work for a filtered coffee.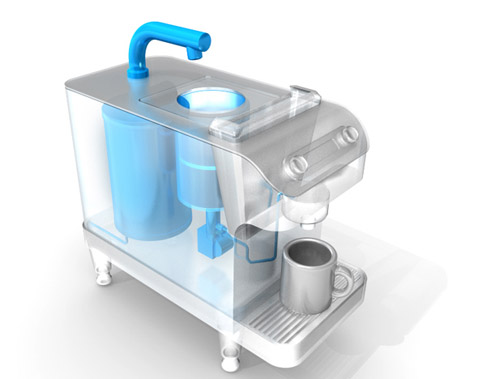 However, personally I think the key success factor for the these coffee maker single brew is in its promotion "p". The elements which they have done is totally non conventional and appealing to the consumers.
Take tassimo for example, before their launch of tassimo in Europe, they circulate a series of videos highlighting the value of the new bosch machine and have the whole cyber space buzzing about it.
Then, you have nespresso making a very sleek commercial using George Clooney as the spokesperson. Keurig on the other hand endorses this year Golden Globe event and all the participants for this event are armed with a keurig b70 brewer.
The last "P" would be the place of distribution. Most of these single serve coffee uses internet as one of their distribution network and I believe this has greatly assist them in reaching more consumers.
Does it matters that Malaysia does not have a keurig office? All one need to do in Malaysia is to Google keurig and then find one of the online stores that does international shipping and he or she would be able to enjoy keurig brewed coffee anywhere in the world!
So, the coffee maker single brew does not have one but in fact many competitive advantages and in fact, you can consider it to be a true marketing success...