A Coffee Pod Machine that can use coffee ground!
Coffee pod machine single biggest complaint has been its exclusive closed systems. That is, a Keurig cannot uses Nespresso pods and vice versus. Now, with Cuisinart SS-1 Cup-o-matic, things are going to be different.
The Cuisinart SS-1 is like any single serve coffee maker, it even comes with Lavazza pods when you purchased. However, the real value add of this machine is its ability to use coffee ground!
The magic all lies in its brew basket that can accommodate coffee pods and ground coffee. With this brew basket, it would mitigate the "stress" of so many coffee aficionados as they chooses their coffee machines.
So far, single serve coffee makers while providing the convenience of a great cuppa all condensed into a pod, it is a closed system. Choosing a brand has to be highly selective, as users are limited within the range that the brand offers.
Then, this coffee pod machine doesn't stop here, it even allows you to select the intensity of your coffee between a regular or bold. ** If for some reason, you want to stay awake through the night -try the bold.
Capacity wise, cuisinart SS-1 75 ounce water tank can dispense up to 10 cups of coffee. It's cup selector allows you to choose between 4 to 12 ounces, together with the removable drip tray, you can even dispense a 12 ounce into a coffee travel mug.
Other value add would be its patented tamping and sealing method for better tasting coffee, easy water indicator and the charcoal water filter.
If you asked me if this coffee pod machine is the best single serve, my reply would be currently it is the most flexible. Similar to Keurig that has a wide selection of choice, a lot would depend on your coffee preference. But, this machine advantage would be its ability to use coffee ground (you can choose any coffee!).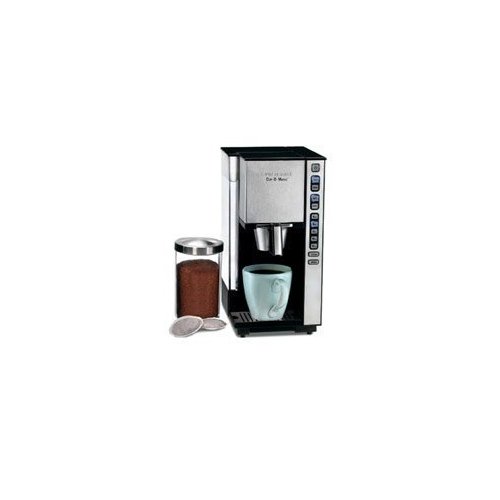 Like the Yin and Yang theory, there is always 2 side to everything, so this coffee pod machine cannot be all good. There are 1 complain on this cuisinart SS-1.
And this is the noise level, there is the thumping, the bumping and I guess the highest level of grouses would be the beeping, especially if you take the water container for re-fill while the machine is still on.
While the price tag of $199 is not on the low side, for the value that this coffee pod machine, I do not think this should be seen as a value destroyer. Therefore, for the convenience of a single serve coffee maker, yet allows you to change coffee as and when you like -Cuisinart SS-1 is the one for you...

Search here for other coffee makers