What Is Good About Melitta One?
Melitta One, from a company based in the USA has dedicated itself to provide customers with quality coffee for almost 100 years.
Its head quarter is located in Clearwater, Florida and this company is part of Melitta Group. The US based company specializes in sales and marketing of coffee filters, non-electric coffee system and coffee.
One of the said company's products is the Melitta One. By the name itself, this is one of the single server coffee brewer offered by Melitta. This machine is a little beautiful one.
Looking at it, it appears like a rocket ship. The pod is located at the top of the machine, and it opens with a pulling click.
---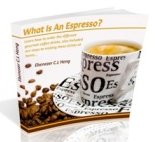 We do not know if downloading this ebook would assist you in selecting a better office espresso machine.
But, we are sure that you would know what to order during your next trip to the cafe and coffee shops.



---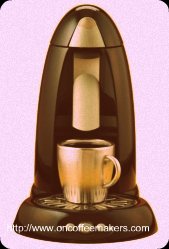 The machine has two different holders: one pod for coffee and one for tea. With the presence of the two pods, one can choose his choice of beverage, either coffee or tea.
This is a very big advantage on the part of the company since a lot of people are really looking for a machine that can do multitasks.
One of its advantages is that it is very convenient to use because it comes too handy. Its small size makes it possible for this to be placed in offices and other places. This gives you a refreshing drink in your office or in your private lounge. It can be placed also in the table in the kitchen without making hassles in doing some kitchen jobs. Nevertheless, it saves space for you.
Melitta One is a single server coffee brewer. With only one serve every time, waste of excess coffee served is avoided. This is very much applicable if you are preparing coffee or tea for yourself only.
If you are using other coffee makers, there will be a lot of waste since they brew coffee in volumes. However, with this machine, you can brew a one-serving coffee only.
Also, this machine has an automatic shut-off capability. This saves a lot of your electric consumption. When the machine is brewed, it automatically shut downs the system. It keeps the coffee at a warm temperature though. So, even if you are busy doing something, you can just turn on your coffee brewer.
It will take care of itself while you are doing the job. As soon as feel the need for your coffee, the machine has prepared it for you.
In addition, this single coffee brewer has hidden cord storage. This is useful feature especially if you are bringing this machine with you in your trips.
You would not want to have a machine with a not-so-good coiled cord with you. Of course, you would want every part of your coffee brewer to be in its proper place.
That is why we have this hidden cord storage. Now you can tuck the cords away.
So, all in all, Melitta One is a good product.
Its advantages are pretty much helpful in your electric consumption, in saving spaces, convenience and of course, not to mention, the cost. Check this product and you will be satisfied.
For those that are looking for other coffee machines, do check out our homepage