Vacuum coffee maker is historic stuff, but it still amazes your crowd with every "performance"!






Vacuum coffee maker would probably be the most dramatic and interesting way of making that full flavored cup of coffee. It would not be high on coffee maker ratings (too slow) and probably does not receive much coffee maker reviews (maybe apart from its strangeness) but if you set it up during a gathering,
vacuum coffee maker impresses the crowd


It is actually 2 glass globes, one set into another, with a filter (usually a cloth filter). The bottom glass globe is suspended over a heat source. This set up looks more like a high school experiment than a coffee making device, but it does makes a good cup of coffee if the rules are followed closely.
---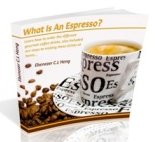 It doesn't matter if you cannot different the faema espresso machines from the saeco espresso machines, what is important is do you know how to order them?
Do you know the difference between an Americano from an Macchiato? Here is a free ebook "What is an espresso?" that can assist you with that. Check it out
---
The vacuum coffee maker probably first appeared during the 1st world war and was revived during the 70's. Currently, they are not that popular due to the slowness and peculiar method, but we all know that with bunn, capresso etc coffee maker around -speed and convenience beat theatrics hands down!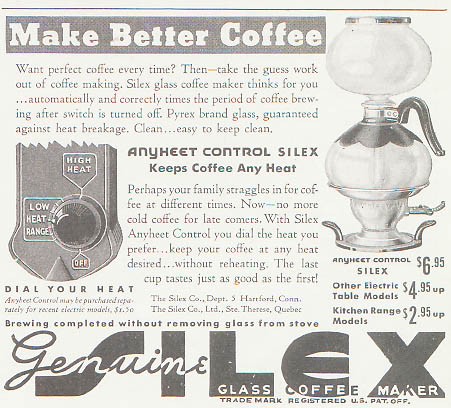 ---


This might not be the best coffee maker to show people how to make coffee but it is definitely a show: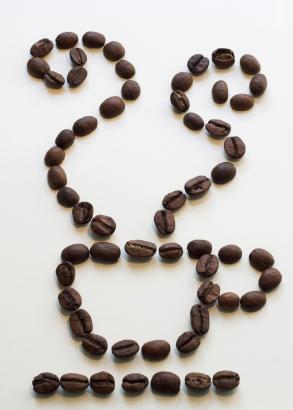 1. Place the cloth filter in the upper funnel and the ground coffee in the top globe. The coffee ground sits around the filter and the top is open.


2. Set the bottom globe on its stand and fill it with boiling water. Oh, please do not wait for the tiny flame to boil the waters unless you are preparing coffee for the next meal, i.e. breakfast preparing for lunch!


3. Light the stand's flame and steam pressure would force the boiling water upward through the tube into the upper globe, where the water will infuse with the ground coffee.


4. Stir the mixture, then allow the coffee to steep for approximately 2 minutes.


5. Turn off the flame and as the lower globe cools and contracts, a vacuum will form and suck the coffee down into the lower globe.


6. When the coffee is all vacuumed into the lower globe, remove the upper globe and serve the finished brew and have people complimenting on the chemistry knowledge that you possesses...

There is not much advantage to vacuum coffee maker, other than the theatrics in making that exotic brew but it still does make a good cup of coffee.

And personally, I think it looks very cool on top of any modern coffee tables -the 'look' of this machine alone would have people asking 'what's that?'. Having people asking about furnishing in a house gives me a feel of really having that 'thing' for interior design, don't you think so?


Other than that, vacuum coffee maker is very time consuming. Waiting is definite as the steam pressure is the driving force and it takes time for that tiny flame to build up the steam.
Even throughout the brewing process, patience and timing is essential. The brewing must be complete before the top globe is removed, . If the top is removed too soon, you would have spill coffee. Other than waiting and patience, the vacuum pot is finicky and complex device to have for a cup of coffee.


And, you definitely be in need of insulated or coffee travel mugs just to keep your coffee hot as the coffee brewed gets cold in this set up pretty fast.
So, there is a reason why it is inside the history of coffee and not really the 'in' coffee makers to be having in your house.


BUT, for those folks that are curious or even impress with this method of making coffee, buy some speciality gourmet coffee,brew it in a vacuum coffee maker and see chemistry at work!


Now, if you scroll on, there are articles and even a search box for you to search this site on more information on either vacuum or other coffee makers, but if you have questions about coffee percolators, your questions will be answered with this partner site.
Learn more about vacuum brew with the articles below or search our site to learn more about coffee makers and coffee making.






How to Choose vacuum coffee brewer?Not many people would be using vacuum coffee brewer. But, vacuum coffee maker remains to be a segment of market that would not pass away, here is why. Why This Is The Best Coffee Maker For Many People?Discovered why Bodum santos stovetop vacuum coffee maker is chosen by many as the best coffee maker. Despite being a relatively old way of brewing coffeeSome people still like vacuum brewingWhat is your view on vacuum brewing, do you think it brews good coffee? Regardless, there are many folks around the world that swear by this coffee maker. The Good Old Cory Coffee MakerCory coffee maker is a part of coffee history. Most of us would probably not even bother looking for it to brew our cuppa, but at one point, this vacuum coffee brewer is very popularVacuum coffee pot is the most critical item for good coffeeWould you believe that a vacuum coffee pot holds the secret to obtaining good coffee?Coffee maker instructions gets more complicated as machine gets "easier"Contrary to beliefs, coffee maker instructions does not get easier because of technology, it gets more complicatedCoffee maker thermos is essential for your vacuum brewerI always think that coffee maker thermos is important, but it is even more important when you have a vacuum coffee maker.
Vacuum coffee machines are becoming popular again, why is that so?
vacuum coffee machines have been losing market share till lately, when people are starting to be interested in this ancient form of coffee making.
Vacuum coffee the same after 100 years, what is the catch?
vacuum coffee is still being purchased and used despite so many newer and easier coffee brewing solutions, why is that so?
Cona vacuum coffee is really easy to use!
While cona vacuum coffee maker has a long history and looks really ancient, it is easy to use and produces great coffee.
Bodum santos B3000 might have the secrets to good cuppa!
Bodum santos vacuum coffee maker like all vacuum coffee machines does a good show, but with the bodum 3000, it can give better brew than most coffee makers...
This article might or might not be sufficient for your coffee maker search -tell us more, we hope to be able to collate and get together a report or sort to better the coffee drinking experience...
Have A Great Story About Vacuum coffee maker?
Do you have a great story about vacuum coffee maker? Share it!
What Other Visitors Have Said
Click below to see contributions from other visitors to this page...