Differences Between the Two Senseo Coffee Makers?
Senseo coffee makers were known because of the unique features they have and of course because of their distinct modern designs.
They are also very simple that's why they are easy to use and operate.
Senseo features their different Senseo coffee makers and two of them are the Senseo Coffee Machine HD 7810/65 and the Senseo Supreme Single Serve Gourmet Coffee Maker HD 7832/55.
Each of these two coffee machines by Senseo has different features that people will surely love.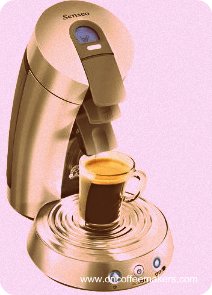 Senseo Coffee Machine HD 7810/65
Senseo Coffee Machine HD 7810/65 delivers a perfectly brewed 1 or 2 cups of coffee within one minute. It has a boiler that powered by 1450 watts.
This machine is the best for those who want to brew coffee one at a time. Just fill the water reservoir with water, put a coffee pod inside the pod holder, and then push the button.
With this simple process, you will be having a flawlessly brewed coffee with no hassle at all.
Customers who have experienced using this kind of senseo coffee makers have given positive view on it.
They noted the quick brewing process of the machine, the capability of this machine to brew various coffee flavors; the fast and easy clean up, the removable dip tray (stainless steel, and the removable water tank that can handle 750ml of water.
They also liked the Auto shut-off of the machine.
You can purchase Senseo Coffee Machine HD 7810/65 at Amazon. They offer Senseo HD 7810 Bundle.
The bundle consists of Senseo HD 7810/65 coffee maker and an 18 Senseo Medium Roast Coffee Pods and 18 Senseo Decaffeinated Coffee pods.
Senseo Supreme Single Serve Gourmet Coffee Maker HD 7832/55
Supreme Senseo coffee brewers are one of the favorite coffee makers because of its features. It is a single-serving connoisseur coffee maker.
It has an LCD display which allows the user to see the water level of the water reservoir. It also has a coffee volume selector that permits you to choose up to 10 ounce of coffee.
Moreover its reservoir can handle up to 32 ounces of water and it is removable. The machine has a dimension of 13 ½" x 12" x 8 ½".
These two senseo coffee makers is definitely a must – have machine in your kitchen. Their features are very interesting and they are easy to use.
Whatever you choose from these two coffee makers, you will be grateful because they can give you great tasting coffee with quality crema layer on top.
If you want to know about other single cup coffee machines or any other coffee makers, do check out our homepage