Gourmet coffee pods are so expensive -should we still buy them?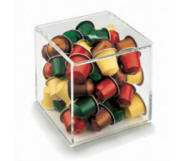 Gourmet coffee pods for the different variety of single serve coffee makers are in high demand. Partly fuel by our ever deepening caffeine addiction but mostly driven by the sleek marketing from single serve companies, like Nespresso, Senseo etc.
Of course, one cannot deny the convenience given to us by these gourmet coffee pods. So, what type of convenience had they bestowed on us?
Consider this, a good espresso has to be produced with 45 ml of filtered water at a temperature of 90 degree celius and forced through a tamp good coffee ground of about 7 to 9 gram. And there has to be a pressure of 60 kg applied per square inch for approximately 25 seconds.
Sure, there are lots of espresso machines that are fully and even super automatic -but what are the pricing like?
And it is this convenience and the more competitive price that has powered the growth of single serve coffee maker and in turn gourmet coffee pods.
Unfortunately, it is also because of the pricing that something "not so right" was being done. From the place that I am from, piracy thrived! No...these are not Jack sparrow or any folks from Black Pearl but merchants that flouted the trademark regulation to copy and sell items cheaply.
The "not so right" thing is to make your own pods or pads, particularly the senseo which has taken the coffee community by storm. People came out with many justifications on why they want to "customized" their own pods or in the case of senseo -pads. (** Senseo coffee might not be espresso per se, but they are close in terms of aroma and flavor)
Some said they wanted to make their own coffee pods because they have some left over coffee from the previous machine, then some do not like the selection of the brew offered by the machine company, (maybe they never heard of K-cup?) some wanted to have free trade coffee and the list goes on.
The most important reason which everyone would bring out is the high pricing of these gourmet coffee pods. Sure, they are expensive, but given my highlight on the complicated nature of getting a good espresso and how they have compressed it all into a single pod and all you need to do is a push of button, don't you think it is fair pricing?
Turkish bridegrooms were once required to make a promise during their wedding ceremonies to always provide their new wives with coffee. If they failed to do so, it was grounds for divorce!
Imagine making your own senseo
or melitta pods , what would be the consequences? At best, it would be lousy quality of coffee because other than good coffee, many factors comes into play. Remember, how a head would pop up or you can hear people coughing when you watch "pirated" movies? Making "pirated" pods are similar to that -the taste can never be the same as the original.
If you have customized your own line of gourmet coffee pods, any machine's guarantee are void and there would definitely be problems like coffee grains stuck in machine, coffee grains stuck in the bottom of coffee pod/pad holder etc. And in some cases -the machines even exploded.
Because I don't agreed with the method of customizing your own pods, I would not show you how to get it done. But, I would tell you that some methods that are not to be tried (Yes, there is a safe way to do it) because it can really break your machine in a big way!
Pouring the coffee ground into the coffee pod/pad holder is an absolute no-no. Only 1 thing would happened, and that is the explosion of your machine.
Then, there is a procedure of creating gourmet coffee pods using 2 separate filters. Then inserting it into the holder -it would not work. Because the coffee ground would float when the water is jet into the holder, it would stop floating when these coffee ground block the bottom of the holder.
Some would even try using other companies pods/pads for the one he/she has purchased. It would not work as engineers has designed it to be exclusive.
Never mind, use the real pods but replaced the coffee grains inside! Sounds simple, until it comes to the stage of re-sealing it. So nay, you would not get your cuppa this way too.
My advice? Coffee drinking is an experience and thought should be given prior to buying any machines (high in investment). And do a thorough research before any purchase.
The senseo looks great, but ultimately if it is Nespresso that you enjoy drinking -you should get the latter! Don't you think it is tiring and so troublesome to beat the system by making your own pods? Choose the right solution and enjoy the specifically engineered gourmet coffee pods.

Each comes with their different individual taste profile and heritage, complied below are some of the more popular ones -hope they enhance your coffee drinking experience...





Brands Behind The Tassimo Disk...Highlighting some of the more popular brands behind the tassimo disk that is the primary reasons why so many coffee drinkers are switching to tassimo coffee machineSingle Serve Coffee Pods Are Always Closed?Some single serve coffee pods such as t discs and nespresso capsules remain closed, it is beneficial to be in a closed system where consumers cannot use other types of coffee?Folgers Pods Ensure a Good Cup of CoffeeSingle serve coffee like folgers pods by using single cup coffee brewers and coffee pods, allows you to have consistently good coffee every time without failWhat Are the K-Cups CoffeeAvailableK-cups coffee is what you would get from a keurig coffee maker, the main thing about the k cups are the variety and the brands associated with it...Keurig Single Cup is all about the La Macchina?When we say that keurig single cup coffee maker does good coffee, which aspect are we referring to? On that, you would need to know the 4 M of espresso making...Is it hard to use coffee pod makers?Contrary to belief, coffee pods makers are not as easy to use as people think it is. It is still easier to purchase coffee pods off the shelf than making them...Tassimo Discs can do any brewTassimo discs with its technology allows you to brew a hot beverage just as it is. An espresso would be brew differently from a cappuccinoWhich flavored coffee pod is good?Flavored coffee pods brews from single serve brewers and gives you flavored coffee, a drink that gourmet coffee lovers might not like, but...Using Keurig coffee pods is one of the easiest way to brew coffee.Keurig coffee pods are so convenient to use. One wonders why would anyone used any other types of coffee makersMost people that buy senseo coffee pod, like senseo.There is no doubt that senseo coffee pod is popular, but these gourmet coffee pods are loved simply because of their good and high quality coffee...Melitta pod are not big compared to tassimo, but is has its followingNot many people would have heard of melitta pod even if they are into single serve coffee brewers, so are these gourmet coffee pods good?Flavored coffee pods are just marketing toolsSaying that flavored coffee pods is just marketing tactics is too unkind, there are folks that loves flavored coffee, and no preference for the generic blend of coffee beansKeurig coffee maker, B70 keep your morning quiet...Keurig Coffee maker, B70 brews gourmet coffee with its patented coffee pods, but really it is the quietness that you would pay money for...Summary of keurig coffee makersYou cannot be discussing coffee pods, without mentioning keurig coffee makers, so here is a summarized listA single cup coffee maker secretSingle cup coffee maker main drawback remains to be its closed system, learned about this secret that would tell you how to circumvent this, might helped you save on coffee pods!
Coffee pod can be "made" at home with 'Brew-Yet
Yes, the entire article says about not making your own coffee pod. If you really want to customized your own blend, here is something you can check out...
Good office coffee comes from this K-cup...
Office coffee that is tasty is almost not heard of, however, with K-cups and the "free on loan" system, cafe quality coffee is possible in your office.
Waived coffee machine rental for cafe quality coffee in a pod!
How to waived the coffee machine rental and get cafe quality coffee through Nespresso gourmet coffee pods...
Getting fresh coffee from a coffee maker easily, i.e. no thick instruction manual...
Folks like to drink fresh coffee, but the roasting, the grinding and the right temperature to get the perfect coffee is daunting -here we offers a solution...
Get single cup coffee machines coffee in your office with these 3 reasons...
Getting single cup coffee machines coffee in office is not easy, we show you how to convince your management in this article
Are coffee pods better than k-cups or T-disc?
When buying gourmet coffee pods, there would always be the thought if pods are better than the newer K-cups and T-disc. Read on to find out the pods advantage over K-cups and T-disc.
Finding single cup coffee to suit your taste?
Single cup coffee is getting difficult to choose as with their numerous brands and blends. Here, we assist you by breaking it into 3 segments.
Single serve coffee refills for Senseo?
Single serve coffee pods are convenient. However, choices are limited, but now with a newer innovation, you can probably use any coffee for Senseo!
Douwe egbert lets you help the environment!
Douwe Egbert is one of the few roaster around that is actively taking care of the farmers and their environment, so buying them is akin to helping the farmers...
Organic coffee pod, better for you and me...
Organic Coffee pod giving us health benefits is a given, see how drinking organic coffee can help the environment...
This article might or might not be sufficient for your coffee maker or gourmet coffee pods search -tell us more, we hope to be able to collate and get together a report or sort to better the coffee drinking experience...
Have A Great Story About Gourmet coffee pods?
Do you have a great story about gourmet coffee pods? Share it!
What Other Visitors Have Said
Click below to see contributions from other visitors to this page...