A melitta coffee maker for $3?






Yes, a melitta coffee maker is yours if you have $3 to spare! This is no promotional gimmicks although I must add in the wording that this would be a non electric coffee maker (we would dwell on that later), however, this shows that melitta has a range that is huge.
If you are into drinking coffee, and have heard of melitta coffee maker, then you would know about Melitta one. This is by far, the most popular of melitta products and is also one of the most popular single serve coffee makers around.
Brewed with the delicious melitta coffee pods, you do not need to worry about burnt coffee or dilute coffee, you simply insert a coffee pods, press a button and enjoy the coffee!
Enough- you just want to look at the different melitta brewer
on sales?
No, you would not be able to get that ONE for $3, but amongst the single serve coffee maker, it is considered to be one of the lowest priced, retailing at less than $50. Speaking about fairly priced, another melitta popular coffee maker would be the Take-2.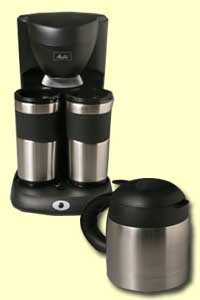 This is a drip coffee maker that brews directly into a 5 cup thermal carafe. And the popularity has to do with its thermal function. Imagine, no more worries about burnt coffee on heating plate. Feedback has it that the thermal carafe can keep coffee hot for more than 3 hours.
Again, while this is reasonably priced at $30 plus dollars, it is not the $3 that was highlighted in the header, so which model of melitta coffee maker is going for $3?
Well, I do not know how popular the ready set joe is in your region, but in our country, it is fairly popular. This is a set that comes with 2 melitta filters, a 12 oz ceramic stoneware mug and a 2 tone lead free glaze.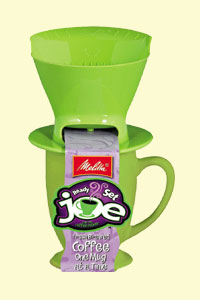 What you need to do for this ready joe one cup coffee maker is to set up the filter cone, put in the melitta coffee grounds, add in the hot water, and you would be able to enjoy quality drip coffee!
Sure, the quality might not be as intense as an espresso, but given the price of the coffee maker and the ease of using and brewing this coffee, I would say that this coffee is value for money!
Then, if you are serving crowd and are looking for a cheap and easy alternative to electric coffee maker, there is an "up sized" version of this ready set joe. This bigger version of coffee maker prepares a full 6 cups of coffee and the usage is similar to ready set joe.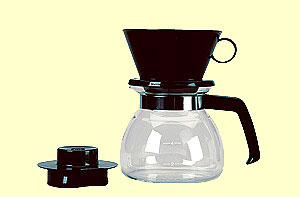 There are not many brands of coffee maker company that has a model that can retail for under $3, most would not find it worth the while producing something at such low cost, and this is where melitta coffee maker has that difference, click on the link to compare other coffee makers.
They are first and foremost a coffee filter company, so to them, great coffee filter is the key to brewing great coffee, and coffee makers are merely complimentary tools.
Anyway, there is this $3 coffee maker from Melitta, and I hope you can get a good cuppa from it!
Can't wait to see the melitta coffee brewer
available? Here is our take on the best place to shop for it









Other articles related to Melitta coffee maker
Melitta Pod Coffee Maker Is What You Call Best Value
If you are looking for a best value single cup coffee machine, you have to check out the melitta pod coffee maker, low cost with good features


This is the Simplest among all Mill and Brew Coffee Makers
Brewing freshly ground coffee gives one the best coffee possible, and this explains why people are buying mill and brew coffee makers. And Melitta MEMB1B has a good machine to offer for this genre...


The Melitta FilterPads
From Senseo you have the coffee ducks, keurig has My-Kap, then there is the Perfect pod maker. Now Melitta also have their own pod maker, known as melitta filterpads


Melitta coffeemaker has the cheapest single serve
Melitta coffeemaker being a single serve brewer offers ease of use and of course ease of maintenance, and it is also one of the most affordable brewer that retails at less than $50...


Melitta Mill and Brew
MEMB1B Melitta Mill and Brew coffee maker is Melitta version of grind and brew coffee maker, and it is a pretty fine coffee brewer...


Melitta One and Melitta One Coffee Pods
Melitta one coffee pods is the key for easy to prepared good quality coffee that uses the Melitta one coffee brewer. Melitta's solution for the single serve coffee market is simply Good.


Manual drip coffee filter cone that works wonders
Manual drip coffee filter cone still brews great coffee, and whether it can be termed "wonders", that would depends on your coffee profile, this coffee maker might or might not be suitable for you


Melitta USA does not sell Electric Coffee Makers?
One would think that melitta usa would sell everything related to melitta coffee, USA having such a high consumption of coffee and anything related to it, but this is not the case...


Melitta coffee pots actually make it easier
How can melitta coffee pots brews coffee easily? well, of course it is not as "easy" compared to single serve coffee maker, but it is not as difficult as most espresso machines...


The Melitta coffee maker parts that are made of bamboo
One of the most important melitta coffee maker parts is the filter paper, so why does it matters to you that it is make of bamboo?


MEMB1 Coffee Maker Melitta is no longer carrying
Some might find it weird to be talking about a coffee maker Melitta is no longer carrying, but knowing that this machine is good, gives you confidence in other melitta coffee makers, don't you agree?


Melitta Take Two is for folks on the move
Melitta take two cannot said to be the most comprehensive coffee machines, but it is one of the most mobile in the market...


Melitta One Cup coffee maker is rare in this market
Perhaps, the greatest value add of the melitta one cup coffee maker is its being a single serve coffee maker. Although, the economical pricing does play a part too...



Have A Great Story About Melitta Coffee Maker?
Do you have a great story about Melitta Coffee Maker? Share it!
What Other Visitors Have Said
Click below to see contributions from other visitors to this page...