A Capsule Machine Should Really Be This...
Nespresso coffee makers are also known as Nespresso capsule machine.
These coffee makers become well-known and popular all over the world because of their aluminum capsules that they use when brewing coffee.
Nespresso Company had begun 20 years ago. The company started by having a simple and small idea of offering a perfect cup of espresso for the people all over the world.
With their passion and dedication to always reinvent, develop, and to perfect the art of creating espresso, the company gained a lot of awards and these awards makes Nespresso become the most excellent coffee makers in the world of coffee machines.
---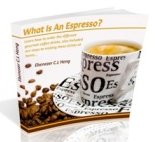 This free ebook "what is an espresso", has a simple mission, that is to assist you in understanding the different espresso drinks.
After reading it, you would still not be able to temperature surf using a rancilio espresso machine, but you would know the difference between a cappuccino and a latte!



---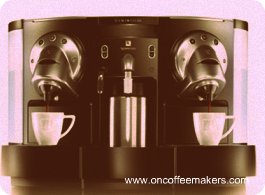 The ability to combine perfect know-how's, a relentless drive for modernization, and contemporary techniques engine by enthusiasm for perfection to achieve superiority made the company's way to develop and modernize a full range of stylish, easy to use, and smart coffee maker machines.
Every Nespresso machine has its own distinction in brewing coffee when compared to other espresso machines.
As you insert the capsule into the capsule machine, the capsule is pierced, and hot water will inject it.
The water pressure builds up, then it will create a hole inside the capsule, and the brewed coffee will be dispensed directly into your cup. The empty capsule will automatically store in the waste compartment of the machine.
Like any other brand of coffee machine, Nespresso coffee makers also have its range. The range will surely give difference to every customer's lifestyle. It definitely makes their life easy.
Here are some ranges of Nespresso capsule machine:
Essenza Collection
This collection of Nespresso coffee makers is a pure joie de vivre that offers up a rich flavor on every cup.
They have a modern, elegant and very colorful looks. With this, they can serve as additional décor in your kitchen.
Concept Machines
These coffee makers are designed with biotechnological advancements with an innovative architecture in different kitchen counter space.
Le Cube
Le Cube Nespresso capsule machine has a minimalist and high impact design that has a classic cube like construction.
The Citiz Range
These coffee makers are created to suit every personality and every urban culture. They are created with true simplicity, with dominant colors, and a true explicit dressing.
Gemini Range
Gemini ranges by Nespresso are coffee machines with a high performance and a very stylish design for business use. the Gemini range also has an optional payment system that can cater medium to large companies.
Nespresso capsule machine has many models and different range. With their number, you can choose which one would suit your standard.
If it is not nespresso, are you looking for tassimo coffee makers, or other information as you compare coffee machines, do check out our homepage for more information