Choosing single cup coffee makers becomes easy...






Single cup coffee makers' variety is dazzling, so which one should you get? If I would to go into the different brands, you would probably be reading an e-book rather than just an article!
But, I have decided to do it real easy, and make it all into just 3 choices! Yes, regardless of so many different brands of single cup coffee makers out there, there is really just 3 types to choose from.
We all know that when we buy any coffee machine for that matter, it is the coffee that matters.
**Single serve can never teach you how to brew coffee, if you are interested to learn, you might want to check out our free coffee course.
Regardless how good a coffee maker can be, ultimately it is what you put inside (the coffee) that matters. So, similarly by categorizing them into 3 choices, it is the "pods" or "cups" that I would be discussing.
The 3 board choices that you would faced when shopping for a single cup coffee maker are the pods, K-cups and T-disc. If you are reading this, I have updated my thought and further simplified it -check out the link!
The market leader currently are the pods which holds 60% of the market. This is followed by the K-cups with 35% share and T-disc has the rest of the market.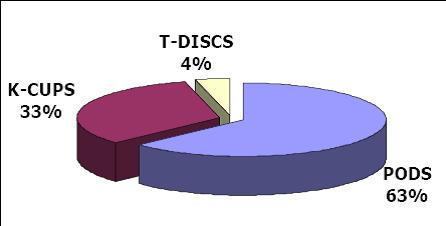 The Pods
The popularity of using pods is likely due to the "standard template" that a lot of machine suppliers adopted.
And this has lead to a variety of brewers from Gevalia to Wolfgang Puck. However, most of them is a closed system where one machine pods cannot be used for the other one.
The pods are circular disc of preground coffee packed in a special filter paper that is formulated to maintain the proper density for a consistent brew. Then packed in a foil envelope where all oxygen is removed.
The fact that the pods for single cup coffee makers are so popular (and maybe a bit expensive), folks are trying to make themselves instead of buying!
K-cup
K-cup popularity would be its variety. With the ground coffee or tea leaves packed in V-shaped filter basket then packed inside a plastic capsule covered with foil lip, it sealed in the freshness and prevents any contamination.
To get the consistent brew and quality of coffee, one just need to insert the K-cup into a Keurig, the foil would be punctured, hot water is injected into the filter. After awhile of steeping, the beverage would exit from the bottom of the capsule into your cup.
T-disc
T-disc popularity is its ability to customized the drinks. Currently, technology for single serve coffee maker for you to choose beverages is very much focused on the cups. T-disc and Tassimo changes all that.
With Tassimo, when a T-disc is inserted into the machine, she reads a barcode that is on its outer edge. This barcode tells the Tassimo how to prepare the beverage, i.e. how it should be brewed like a coffee or tea, or infused like an espresso or maybe frothed like a cappuccino.
In fact, she is the only single cup coffee maker that can froth your cappuccino like the usual espresso machine!
There you have it folks, 3 choices. Of course, if you would to choose the pods, there would be still be some choosing and testing to find the brewers you like.
Regardless which one you choose, there is no mistake that single cup coffee makers are changing the way people are enjoying coffee and I think in a good way...


Find out more about other coffee makers at the home page