Single cup coffee maker braun makes, can save you more than money!
Single cup coffee maker Braun can save you money? Then, you think, what are the single serves from Braun? Do they have any single serve solutions?
You might think you have not heard of any single serves produced by them, but the most successful single cup coffee maker, Braun has built would definitely ring a bell -the Tassimo.
You would probably associated Tassimo with Kraft and probably know that it is designed by Saeco, now know this, it is build by Braun. So, if you are looking for a single cup coffee maker Braun produces, it would be the Tassimo.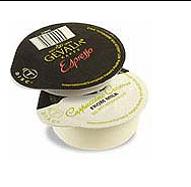 Never mind all these, who build what, the most important question is still how would it saves money for you? Let's use cappuccino as a benchmark, if you purchase a cappuccino from Starbucks, it would cost you $3.00 daily and that would be $1095 in a year.
Then, you thought the savings would be better with an espresso machine, and you plough down $1000 for a Miele system, and per serve is about 20 cents with milk and pilferage all factor in. It is about $1073 for a year consumption, not much cheaper than Starbucks.
What about the single cup coffee maker, Braun built? The Tassimo cost less than $150 per machine and the T-discs cost range from 39-49 cents. So, at most you would pay 39 cents for a cappuccino. The total cost per year would be $328.85.
Compared with Starbucks, it is a saving of $766.15! I guess now, the next burning question, would be the quality of the brew. We all know that espresso machine can almost replicate the "feel" of cappuccino at home, but what about a Tassimo?
Still using the cappuccino example, this single cup coffee maker, that Braun has built would probably be the only single serve that can froth a cappuccino.
We all know that single serve coffee makers, are known for their ability to keep the freshness of the coffee ground, be it the pods, K-cups and in this case, the T-disc.
However, it is the code on the outer edge of the T-disc that bring the coffee experience very close to that of coffee houses. The bar code on the T-disc.
teaches the Tassimo how to brew the beverage, whether it should infuse like an espresso or froth the milk like a cappuccino.
Of course, the vacuum packed technology of a T-disc also plays a part in delivering the frothing experience. It enables them to packed in liquid milk, and it is this milk that allows the Tassimo to froth the milk for the cappuccino.
It is more than coffee house cuppa from this single cup coffee maker braun delivers savings and convenience (well, you can get cappuccino less than 10 paces from your bed, right?). I would be moved, if I am you...


Maybe you wanna know about other coffee makers?