Can french press coffee maker give good coffee?



French press coffee maker similar to any other coffee makers are designed to give us good coffee. So, it is very sad to know of folks evaluating french press as if it is a lower class coffee makers.
Some folks was telling me this is because most folks using the press are doing it out of their pockets, so it would not taste as good as the free coffee enjoyed by folks using coffee machines given by coffee suppliers -I wonder how true...
The fact is french press coffee maker with its heritage of more than a century should be better than other coffee makers! If you are talking about the very first "appearance" of french press, then it would be in 1840's when the concept of press and plunger brewing system was first introduced, however, it the press concept did not really take off then.
It wasn't until the early 1900's when a press pot known as "cafeolette" was marketed then french press start becoming popular. And in 1930's, the world saw the first bodum french press. Produced by melior, it featured a stainless steel filter with a metal body.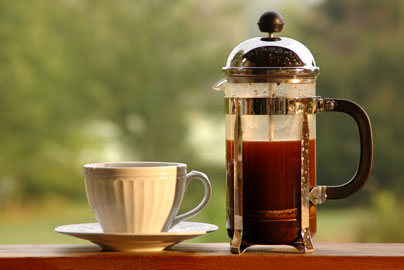 Although it is marketed under a different name, bodum bought over the design, so technically, that is still the ancestor of bodum french press! of course, we all know now that bodum is the name for french press coffee maker, in fact, many people in the coffee market feedback that french press remains one of the coffee makers with the highest profit margin -no wonder bodum keep doing it!
Are you bored? You must be thinking what does all this have to do with good coffee? Nothing, I am just trying to justify that french press is good coffee and the one and only reason why you get low quality coffee is YOU!
Have you ever heard of this statement about how the grind is not good enough for espresso maker, but maybe it can be used for french press! What type of mentality is that? French press similar to espresso maker deserves a good grind.
We did not read anywhere that french press coffee maker can use lousy grind, it merely says that french press need coarse grind while espresso coffee maker need fine grind. And by coarse, they meant uniformly and even coarse.
And here is the problem, when people uses low quality grind that most people would not use for their espresso maker, because they know it would not give them uniform grind, but they use it for their french press anyway, the result is sludge.
When the grind is not even, you get coffee dust and stuff, and usually this result in a sludge which lead people thinking that french press produce low quality coffee.
I mean, if the grinder cannot grind an even ground for espresso maker, it would be the same for french press!
So, french press can give good coffee, if they have a century of consumption as their credential, that means people like press coffee for a 100 years. The many negative reviews on french press is due to folks with a biased view!
Try some good arabica coffee and grind it with a mazer and experience the coffee a french press coffee maker does. Click the french press link to see how to use it correctly.