Best coffee makers, let us show you how to find it...
Looking for the best coffee makers or coffee machines? Look no further, you would be able to find that best coffee machine here! Why are we so confident, that is because of the OCM BCM** system that we have created.

It doesn't matter if you are looking for an espresso machine or a drip coffee maker, every site that you goes to (Amazon, Walmart, Lazada) would flood you with tons of positive reviews and it seems like all the brewers or machines are great.
(**The OCM BCM system works best for the consumer market (B2C). We have also adopted this model for office coffee service (machine) as well. )

With OCM BCM (best coffee makers) system, we use 3 components to compare and recommend to you which coffee machines are the best (fulfilled all or most criteria) and in each criterion, we will also recommend to you the best machine. 
The OCM BCM system:
C1: The popularity of the coffee machine or brewer. 
C2: The user experience of the coffee machine
C3: The price of the coffee maker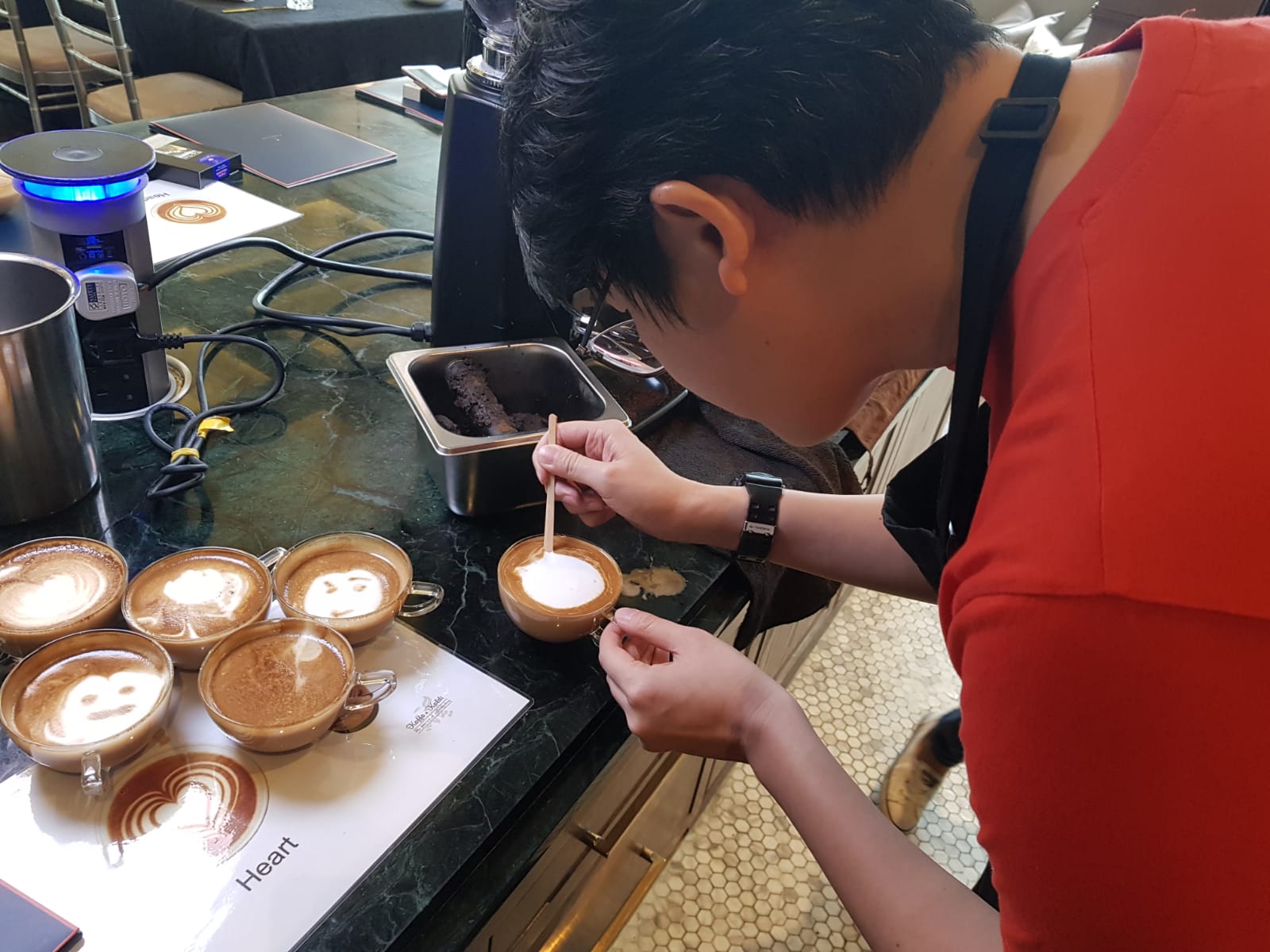 The brand or machine that meets OCM BCM system is one that is not too costly, easy to use, plenty of positive reviews/testimonials and does not need you to renovate your office to fit the machine in (or the larger espresso machines). And that to us is a top-rated coffee machine. 

How OCM BCM system works
First, we would start with the OCM BCM C1 with the tracking of the popularity of the coffee brewer using the OCM CMR Matrix (learn more in OCM Coffee Maker Ratings using SEMRUSH** as our platform). We will sieve out the top 3 sites that are found for the genre/keywords (e.g. espresso machine) and delve in and locate the top 5 coffee brewers using search volume.

Once we have chosen the most popular brands in the keywords or categories, we would then run it through the rest of the OCM BCM system namely: 
OCM C2: The User experience | BCM Matrix
From C1 CMR matrix, we will sieve out the top model among the brands that are found in the top 3 sites for the coffee maker genre. We will then go into each site and find out the top-rated coffee maker for each brand based on ratings and their reviews. All these will be placed into the BCM matrix.  
We will also choose the overall most number of ratings and reviews from the different sites. 
OCM C3: The price. 
From C2 that was input into the BCM matrix, with the 5 brewers with the best coffee maker reviews, we will take out 1 with the best pricing. So, for each brand, you will see the coffee maker with the best pricing. 
We will also choose the best price coffee brewer from the whole matrix with the most number of reviews or ratings.
**SEMRUSH allows us to gather large amount of search data for the different genre of coffee brewer, the different country, for different companies. We used it for both consumers and office settings. Enjoy the free use to check your competition and consumption pattern. 
---
Case Study: BCM Process for Espresso Machine (Consumer) 
OCM C1 CMR (Coffee Maker Ratings) matrix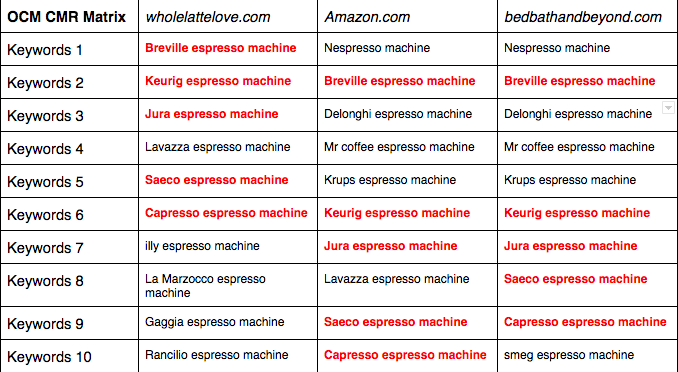 We key espresso machine into SEMRUSH and then we look at the top 3 shopping sites that are ranked for this term. 
In this scenario, Whole Latte Love, Amazon, Bed Bath and Beyond are the top 3 sites. 
From there, we go into each site on SEMRUSH, using the same keyword espresso machine and sieve out the top 5 brands for this term. Note that we are tracking the number of searches (and possibly entry into the sites, not the number of reviews). 

*In this scenario, there are more than 3 e-commerce sites, there could be scenario on a genre with less than 3 sites. 

With the CMR Matrix completed and the top 5 brands identified, we move on to building the BCM matrix. 
Learn more about this example in the CMR (Coffee Maker Ratings) Matrix.
---
OCM C2: User Experience | BCM Matrix
For each of the brand identified, we will go into each of the three e-commerce sites and sieve out the make and model of each brand with the most number of reviews or ratings. 
The image below shows the top-rated coffee maker in each site.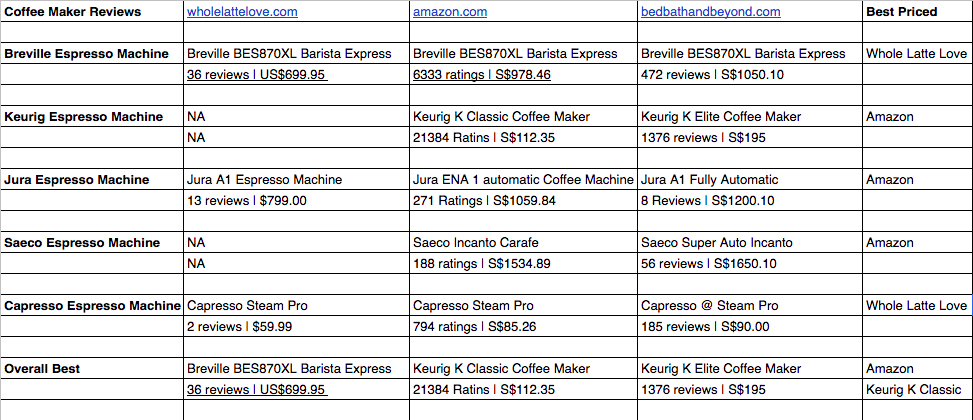 ---
OCM C3: Price
Most buyers are solely looking at price, i.e. they are looking for cheap coffee makers. If you are shopping for a bunn home coffee maker, bunn coffee pots or a Mr coffee maker, with the OCM BCM Matrix, you will get to decide if you want to go for the best priced SKU. 
From the OCM C2, we also included the price on the extreme right in the BCM Matrix. So, for each brand, you will immediately see the cheapest coffee maker. 
We also summarized the best-priced brewer at the end of this matrix for the genre (keyword), espresso machine. 
In this scenario, it is Keurig K Classic from Amazon e-commerce site.
---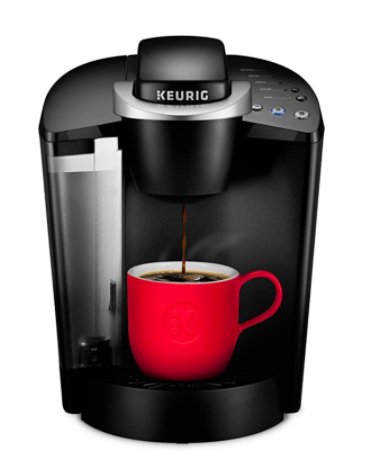 In the genre: espresso machine, OCM BCM Matrix shows that Keurig K Classic from Amazon e-commerce site is the best value buy. 
Learn more about the whole process: in BCM (Best Coffee Makers Matrix). Read more about the Keurig K Classic. 
---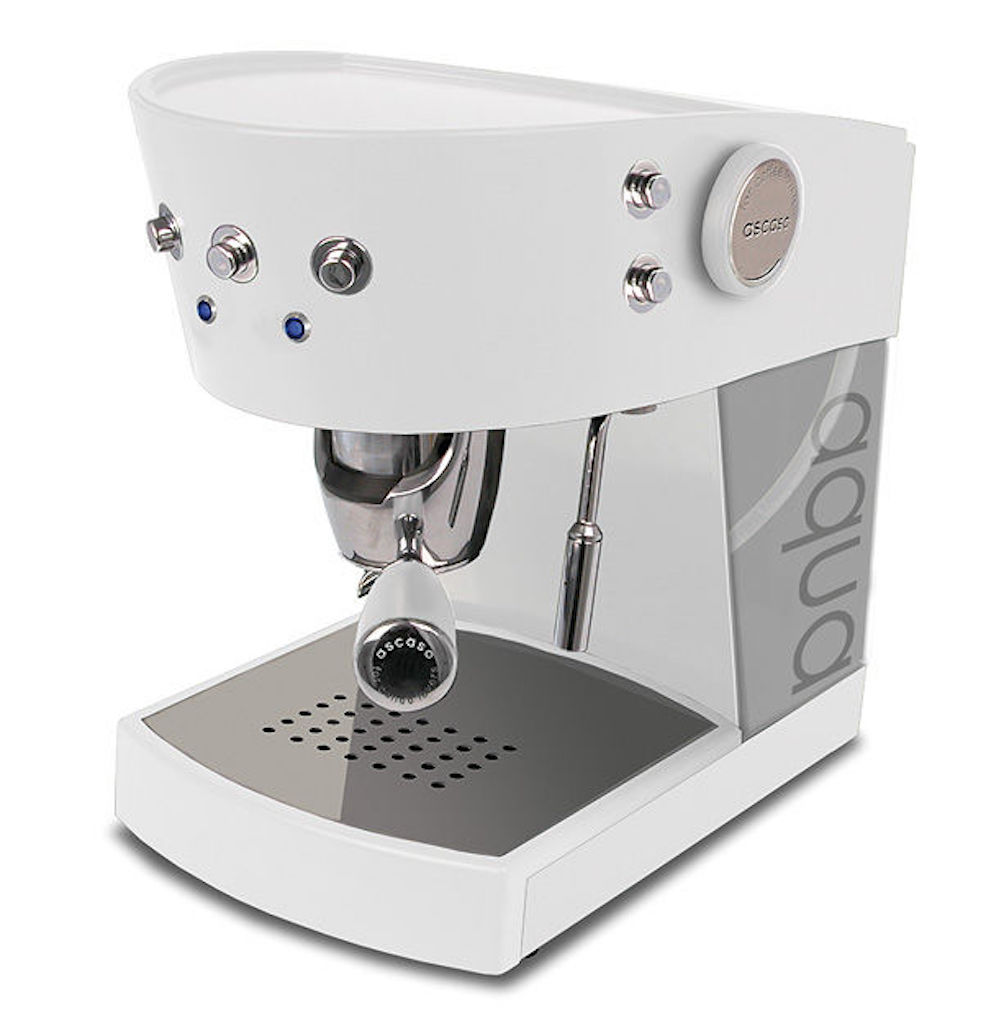 ---
Case Study: BCM Process for Espresso Machine (Office) 
OCM C1 CMR (Coffee Maker Ratings) matrix
For this case study, we are using office coffee machines, location Singapore. 
From the SEMRUSH, we sieve out the top 3 sites that are related to Office coffee service in Singapore. And from these three sites, we will go into each site to identify the top 3 brands. For this particular matrix, it is more manual for this segment.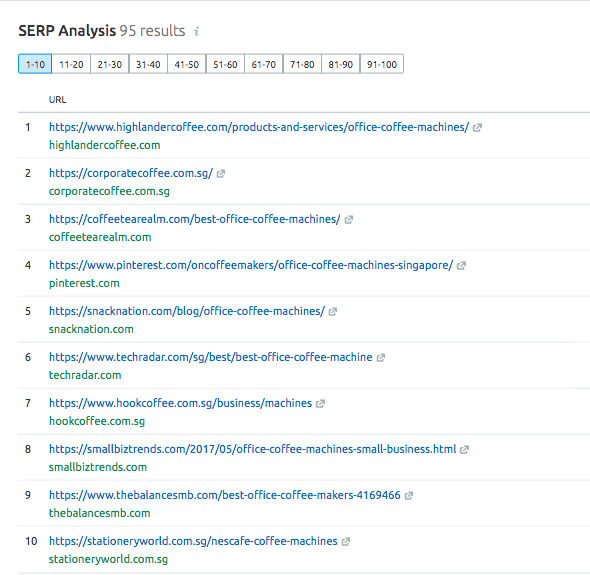 OCM C2: User Experience | BCM Matrix
From the OCM C1 (CMR Matrix), we would take out the brands and rank them according to user experience. This portion is different from the consumer BCM matrix that you read about earlier, as this is not based on the reviews but the actual observation of the user experience. 
The user experience of a machine comprises: 
Installing it: If you still need a user guide to install the machine or to assemble a brewer, design-wise it might not be too user friendly. It should be plug and play in most cases. So, the easier it is to start using the brewer, the better their score in this area. 
As the CMR draws out the data from the office coffee service provider, it is possible to have a case of Nespresso (single-serve) comparing against Rancilio (semi-auto espresso machine). 
Using it: To rate coffee makers for usability is any user can figure out how to dispense a coffee again without the need of a manual or asking anyone. Unless you are a coffee aficionado, and you like to grind, tamp and see your coffee drip at a certain pressure, for most cases, you will certainly want a brewer that dispense your coffee at no more than 3 press of buttons. It must be easy for you to get your cup of coffee. 
Maintaining it: Firstly, it needs to last for a reasonable period of time before breaking down, we usually believe a good machine can run without any issue for at least 2 years. 
Then, if an issue occurs with the coffee brewer, it must be easy to fix, with its spare parts easily available. This will only happen with established brands that have dedicated distributor in your country. If you parallel import from another country, you might face an issue with maintenance. 
For example, Flavia from Mars was having quite a good traction in Singapore, but the lack of distributors and maintenance lead to a gradual decline of its usage. 
Here is a BCM Matrix based on user experience.
OCM C3: Price
At the extreme right is the price for each machine and the possibility of renting it. Once again, office coffee has a different pricing model with the possibility of rental and also Free On Loan. 
Point of interest with regards to pricing: 
Pay nothing: Free on loan coffee Machine**
Cheapest in the Market:  (update when we have the relevant information) 
Value Purchase:  (update when we have the relevant information) 
**Why you do not need to pay for coffee machine rental
We also summarized the best-priced brewer at the end of this matrix for the genre (keyword), office coffee machines. Obviously, free on loan is the most attractive in terms of pricing. 
In this scenario, it is Bravilor free office coffee machine from OCM site that offers the best deal. 
---

Within this page, there are articles on the biggest brands, i.e. Bunn,Braun, bialetti etc. All having strengths and performance that are "best" in many coffee makers ratings and are already serving in many homes -a testimony of their best status
So, we hope this page about best coffee makers can assist you in finding the desired coffee brewer, if you still nee further help, feel free to drop us a message below. 
**Feel free to shared your thoughts about coffee machines to make the cotent here richer, read about how others has voiced their views. 
---
---
About US | OCM Profile
OCM (OnCoffeeMakers.com) was started in 2007 with the first webpage about coffee machines. And for a number of years, we focused on helping people find their desired coffee machine (we still are helping folks with that! So, if you are looking for coffee machines for office or restaurants - check out the link). 
In 2010, we started getting enquiries on restaurant marketing and we start to help food and beverage brands with their marketing. Below are campaigns and events that we have done over the years: 
OCM's campaigns: F&B Marketing Ideas by OCM 
OCM's Events: F&B Industry events by or with OCM
Check out this restaurant marketing guide to learn more about the many campaigns and companies we have worked with. 
Since then, we have also created many marketing workshops and classes for the F&B industry. Many of these modules are still running in tertiary institutions such as Temasek Polytechnic Skillsfuture Academy and also ITE College East COC classes, below are some snippets of our lectures and workshops: 
OCM's F&B workshops: Food and Beverage Marketing Lectures | Workshops - click to watch classes on customer journey map, JTBD and more. 
So, if you are looking for industry practitioners to help you scale your coffee or F&B businesses, do drop us a message or book an appointment. Do also check out our various social media platforms on regular F&B and coffee market updates: 
For regular coffee (F&B) related videos: OCM Youtube
For Daily Coffee Inspiration (fun coffee content): OCM IG
For insights into the coffee (F&B) industry: OCM LinkedIN 
PS: For the coffee lovers, we continue to share coffee articles (and videos) and have also started a free coffee class section (with free online coffee training supported by coffee partners).

---
---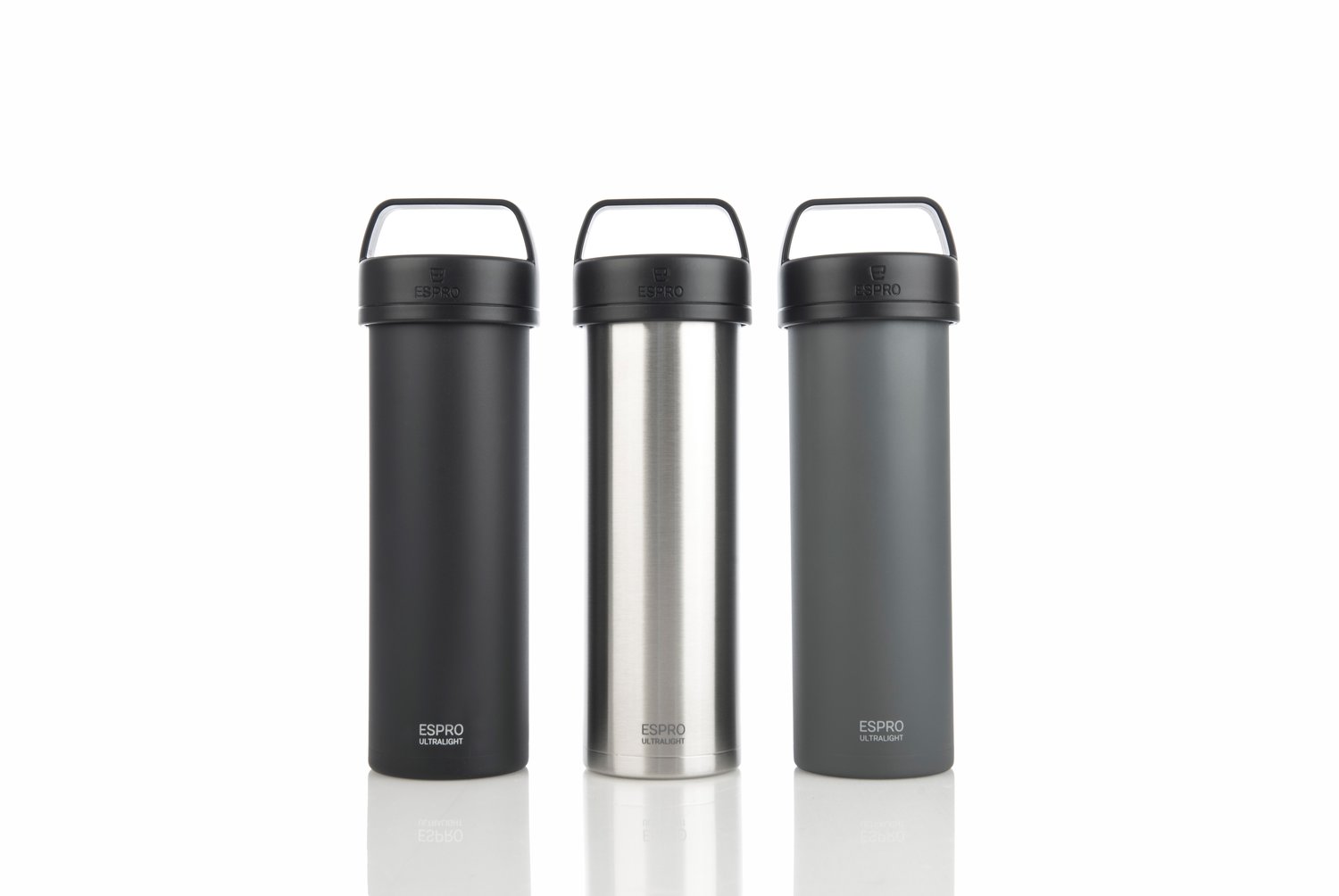 Wow, that is a lot of reading (below) and probably a lot of work just to decide which is the best coffee machine -is there an easier way?

What is the most popular coffee machine these days? If it is popular, it should be not that bad right? 

That would be ESPRO Ultralight Coffee Press

---
From America to Zanzibar, coffee is the drink that warms up the mornings of the world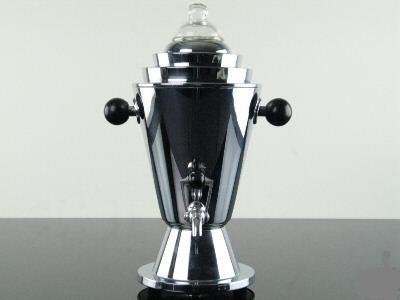 ---
Best Coffee Machine Articles
Not easy to identify the best thermal coffee maker. But we did this based on coffee maker reviews and what coffee drinkers feedback -so here is supposedly the best...


These top rated coffee makers are hot.
What makes top rated coffee makers better than the rest of their peers? In fact, would a best rated coffee machine for you be the same as what I asked for in a best coffee brewer? 


Nobody Can Tell You the Best Coffeemaker that can Serves All Your Needs
Best coffeemaker is an overused term, but other than yourself, nobody can really show you which brewer is the best coffee machine, here are some guidelines though...


Best 4 Cup Coffee Maker
This best 4 cup coffee maker is of course my own evaluation, and I hope that even if you disagree, this would be useful in your quest for the best coffee machine...


Good automatic coffee makers are all about smart marketing
Well known automatic coffee makers need to have a remarkable machine before smart marketing can take place, but the latter gives it a tremendous lift


How should you compare coffee makers?
Compare coffee makers to find that best coffee makers is time consuming, but here we offer a simpler solution


Cheap coffee makers might not be your best coffee makers!
Cheap coffee makers might not be so affordable, while it might sound oxymoron, you have to read on to decide if that is the case


Those consumer reports coffee makers are in -it is useful?
Almost all shopping sites uses some form or reports, but are those consumer reports coffee makers is in useful?


This is the best coffee machine!
You heard of the 4 Ps from to find the best coffee machine, now learn how to apply it to hasten the pace in finding and using THAT brewer...


Find best home coffee maker, let me help.
Forget about finding your best home coffee maker from those reviews or ratings, try this step by step process


How to find the Best Espresso Machines?
Have you ever thought about the variables involved in identifying the best espresso machines, or in fact if there is any such best espresso maker in the first place...

My 5 best drip coffee makers choice for your reference...

Choosing among so many different make and models of coffee makers is not best, so here is 5 best drip coffee makers for your consideration...

Capresso coffee machine has some "special" elements making it one of the best drip coffee maker around...

Read how capresso coffee machine make it as my best drip coffee amongst so many "best coffee makers" by giving better temperature, freshness and safety.


The one cup coffee maker that is below $20, do you believe? 

One cup coffee maker taste good and is easy to use, however cost is much higher. So, would you believe there is one below $20?


Bodum french press brew coffee easily and at very low cost

Bodum French press, the leader in French press brews coffee easily, at any location and is one of the most affordable coffee maker


Choosing Thermal coffee makers based on...

Thermal coffee makers comes in all shapes and sizes, but if you asked me to choose as the best coffee makers, then it would be the one that comes with the best...


Better French Press extraction with 1 simple step!

Many uses French press reported average quality coffee. Here, we highlight 1 important step to better the quality of the press...


Best drip coffee maker should be...

The best drip coffee maker mean different things to each of us, but speed and heat are criteria that I feel a drip machine should have to achieve the "best" title...

zojirushi coffee maker is "hot"!

zojirushi coffee maker has been selected by a coffee makers poll done by wall street journel as one of the "hottest" machine around...


Hamilton beach coffee maker is always HOT...

Hamilton beach coffee maker has many great reviews but the one that would add value to your coffee enjoyment is its "hot" capability...


This best coffee maker rated by who?

Best coffee maker rated by many authority lead many to wonder why almost any coffee makers are a "best". So, what is the good way to rate and choose best coffee makers?


Best filter coffee maker must be able to brew and keep coffee fresh to deserve this title! 

Best filter coffee maker need not be cheap but must be value for money. One variable underlines value for money -freshness, the one that can provides the freshest brew fits that criteria.


Best coffee and espresso maker must be value for money!

Best coffee and espresso maker, such a combination usually comes across as expensive. So, the best should be one that gives great value at low cost.


Best automatic coffee maker, let you "cannot live without it"...

Best automatic coffee maker should be you that fits your lifestyle, however, let me highlight one that probably can do all that and be your best coffee makers


Best price bunn coffee makers is one with ability to give fresh coffee!

Best price Bunn Coffee makers is definitely not the lowest priced, but it is one that can give coffee drinkers the best value with the lowest cost...


Getting replacement parts for Mr Coffee? It might not be necessary...

Mr coffee replacement parts to revive your Mr Coffee might not be required, all it need might be some looking and shaking...


Get a cuisinart for the price of a coffee mug!

Cuisinart coffee makers has offering from the price of a coffee mug to the usual coffee machine pricing, and they excel in all their offerings!


Gevalia coffee maker is nothing great, but I want to have it!

Gevalia coffee maker comes with all the advance gadgets, but it also comes with a heritage of coffee making -definitely exciting for the user.


My favorite stainless steel coffee maker from Krups
Most people would think that stainless steel coffee maker meant percolator coffee maker -that is not so, at least not for this krups coffee maker


Highly Rated Drip Coffee Makers
Drip coffee makers are still the preferred way for people to brew their coffee. And while there are probably hundreds of different models, these three are the most popular...

This article might or might not be sufficient for your best coffee makers search -tell us more, we hope to be able to collate and get together a report or sort to better the coffee drinking experience...

Which machine is your best coffee maker?
You might disagree with what we have and have your own version of best coffee maker, we look forward to knowing more about it...
What Other Visitors Have Said
Click below to see contributions from other visitors to this page...