Flavia coffee system -now you can really get free coffee!



Flavia coffee system at the time of this writing is in Singapore for close to 6 months and consumers loves it.
Why is this single serve coffee maker so popular? Consumers that was without a choice and have to live with freeze dried (most table top coffee vending machines uses this) or instant coffee.
But they are now able to drink cafe quality cuppa, with the touch of a button -one can only imagine what that delicious feeling must be.
2 years ago, I wrote an ebook detailing how employee can get free coffee, the book portrays a winning situation for the employees, in fact, thinking about it now, it is also a win for the employers.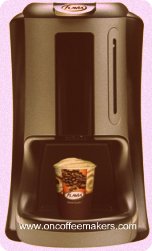 With a office coffee maker such as the flavia coffee system, employees no doubt seem like the main beneficiary. They get to save money, that would otherwise be spend on coffee.
If one would to spend $2.50 on starbucks, or $1.50 on Yakun, they would save about $500.00 per work year. Download my ebook for more information.
Although, at one glance the employer does not seems to benefit from it, the indirect effect is huge. Two elements that business owners count as important to their progress, are productivity and loyalty.
Sure, having a flavia coffee system in the pantry is no big deal. But, this shows appreciation on the part of bossess to their subordinates.
Being appreciated is the catalyst that give rise to productivity and loyalty. And in this booming economy, retaining talent is especially important.
So, 2 years ago, I said that free coffee is possible. Now, one can get it easily from a few companies in Singpore that are distributing the flavia coffee system.
In Singapore, Mars Inc are using flavia creation 200 and 400, (c200 and c400) as their office coffee systems to penetrate their target market. The former serve up to 50 pax, and you need to get c400 for anything beyond that.
At a price that is less than a cup of kopitiam coffee (currently at $0.90), you would get to enjoyed cafe quality cuppa and the famed dove chocolate -is a good deal.
However, for those that prefers not to pay anything YET, fill up the form for a trial(delivered to your office) to drink to your fill...
---