1 kilogram of roasted coffee requires 4,000 - 5,000 coffee beans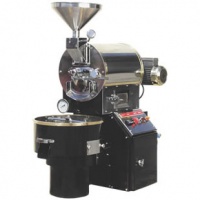 Make a home coffee roaster by simply using a pan and an oven!
Home coffee roaster is going to be the one process that gives you the perfect cup of espresso. There is no doubt about this, roasting is the most important stage in the entire coffee making process. The stage starts with sorting/grading, roasting,grinding and lastly brewing.
Roasting with commercial or home coffee roaster alike is an art. This is the process that creates flavor and aroma, without it, none of the flavor of the coffee would be avail in the espresso (hmm...there wouldn't be any espresso to start with!).
If the roasting is done badly, it either gives you a tasteless coffee or a bitter coffee, which in my vocabulary is yucks! But fear not, currently there are systems and specific home coffee roaster that really simplified the job that make bad roasting non-existent.
Before we move on to any home coffee roaster, you must understand the basic rule of roasting. And that is the darker the roast, the lesser the true character of the beans and usually bitterness will dominate the flavor.
As in all things, there are exceptions. Roasting Guatemalan Antigua beans to high roast will give it body and yet retain its acidity and fruitiness. And high roasting some mexican beans will actually make them taste sweeter.
In this article, I would be showing you the easiest way to roast beans at home, but remember this -a roaster job not properly done would cause extensive damage.
Roasting should be done at 240 degree celius and for a fixed time to get a particular roast. Flouted these rules, results in oil not extracted and underdeveloped flavor.
And if the temperature is too high and the roasting too long, the beans will taste thin and burnt. So, slowly you can see why people are paying good money for those home coffee roaster right?
Now, comes the million dollar question -which is the best home coffee roaster? The range of home coffee maker goes from a small i-roast that have a cannister that holds half to one cup of green beans and costing USD$199 to a drum roaster that can roast 9 oz of beans and priced at USD$ 580.
You can refer to this article: gourmet coffee roasters for some insights on the various home coffee roaster.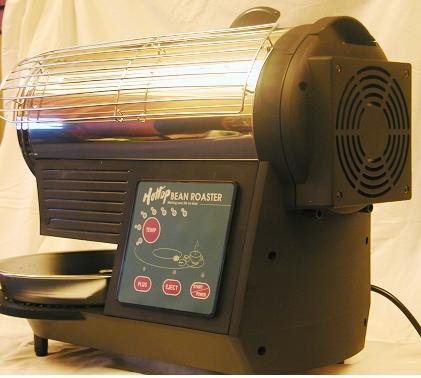 It doesn't look like much, but this fellow can and had "roast out" many cups of good coffee

Okay, lets see how we can roast some beans with the simplest technique and no complicated tools.This would not be the best coffee roast but with practices, it can still get some pretty good coffee:
The skillet-in-the-oven method
First, preheat the oven to 260 degrees celius.
Then, spread an even layer of green coffee beans in a cast iron skillet and put it in the oven.
Roast it for 20 minutes
For light to medium roast, shake the pan occasionally. The beans will first turn yellow, then brown. You will hear a 'cracking' sound as the remaining moisture bursts from the beans and releases the coffee's aroma.
If you are looking for a darker roast, trim the heat to 200 degrees celius after 20 minutes. Then continue to roast and shake the pan occasionally for another 15 minutes. The timing would depends on the darkness of roast that you desire.
Once you achieve the desired roast, remove the pan and allow the beans to cool.
Yes, it is that simple. No complicated techniques, no lengthy process to roast some beans to get some coffee. True, it could not rival many of the coffee bean roaster in the market, but then again -spirit of ownership and fun at DIY should make up for the slightly lower level of taste profile...


Three Lower Price Tier Coffee Bean RoastersRoasting with coffee bean roasters would give you the freshest coffee. To mitigate your cost, this article highlights three low cost home coffee roaster. This Coffee Bean Roaster Is Dishwasher FriendlyThis coffee bean roaster from Alpenrost is slower, but it gives you a better roast and it is easy to clean being able to go into the dishwasher!Looking for commercial coffee roasters? Remember this nameIf you are looking for commercial coffee roasters, you should check out diedrich, firstly because of its heritage of making roasters and secondly because most big coffee company are using it! Can trust those coffee roaster companiesDo not under-estimate the work that coffee roaster companies does. They roast your coffee beans according to the description, fairly and in a consistent manner...Coffee bean roasting is not for you if...Coffee bean roasting is not as easy as coffee brewing and unless you are prepared to invest time and effort, do not even bother to get a coffee roaster...Which Coffee Roaster Machines are good?Rather than deciding for you on which of the so many coffee roaster machines is good, why don't you choose between these few machines...Choice of roasted coffee beans mattersThe type of roasted coffee beans is one of the variables that coffee lovers did not pay much attention to when brewing coffee. And this is actually one important variable...Are Coffee Beans organic ones Better?When you buy coffee beans organic ones, not only are you helping the environment, you are promoting free trade coffee, helping the farmers and many families...This commercial coffee roaster do it under 10 minutes!People getting commercial coffee roaster would want it to perform as fast as possible and here you would find a roaster that do exactly that!A quiet coffee roasting machine.If you are looking for a coffee roasting machine, one of the criteria is low noise level, you would not want to wake up your family every time you are roasting coffee or preparing your morning brew...
All about coffee and roaster in 5 steps
Coffee and roaster have many things written about them, but you probably need to understand just a few to know if you are one that want to cook your beans...
Hearthware gourmet coffee roaster is easy and fast
Hearthware gourmet coffee roaster is an old version that might not match up to its newer siblings on their abilities. however, for ease of use and cleaning, then this might be your choice...
Choosing coffee roaster equipment in 2 steps!
Coffee roaster equipment variety is quite numerous, however, we shrink it just to 2 to assist you to make that purchase easily...
Green coffee bean roaster's popularity is due to ease of use
Green coffee bean roaster has been gaining popularity and its ease of use might be a reason behind this.
Diedrich coffee roaster is so much more!
Diedrich coffee roaster is without doubt, one of the most expensive for roaster, however, its value add is also much more than the usual home roaster...
Aerorost ii coffee bean roaster, roast with your eyes...
Aerorost ii coffee bean roaster comes with many value add, however the ability to make you into a coffee expert is the one you should check it out!
Alpenrost coffee roaster has many problems?
Sure, alpenrost coffee roaster are plagued by negative reviews. But, did someone really manufacture such a unworthy machine?
Hot top coffee roaster is always hot...
Hot top coffee roaster is well known for its many programmable features. However, is it's ability to maintain consistent temperature that make it a gem for coffee aficionado
Used coffee roaster is easy to find, but it is good?
Used coffee roaster might be easy to find, but the difficult task is to ensure that the condition of the roaster is good and able to roast some good beans...
This article might or might not be sufficient for your coffee maker search -tell us more, we hope to be able to collate and get together a report or sort to better the coffee drinking experience...
Have A Great Story About Home Coffee Roaster?
Do you have a great story about home coffee roaster? Share it!
What Other Visitors Have Said
Click below to see contributions from other visitors to this page...