This delonghi coffee maker is big but good!






A Delonghi coffee maker might not be as "advertised" as their more exposed espresso maker siblings. Take for example, ESAM 6600 that is under the delonghi espresso maker range, if you are into delonghi, you would have heard of it but not so for their coffee makers.
So, is a
delonghi coffee maker
good? If you asked me how does it compares with Bunn coffee maker, my take is that while it is different, it more than serve its purpose!
For this article, I would be using the de'longhi DCF212T frontal access 12 -cup coffee maker as a talking point. A first look at the coffee maker and you would noticed that it is too big, it would be taking up too much space on your counter top.
While this is against conventional coffee maker design (all of them are trying to manufacture smaller coffee maker), this delonghi DCF212T has a frontal Access Feature, which means that there is no need to move the coffeemaker to fill it.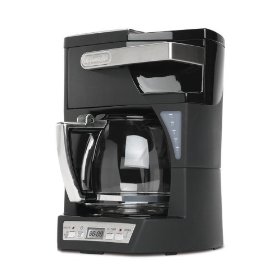 And this is what I meant by different but more than serve its purpose. Of course, for those that have been reading my articles, you would know why I chose this coffee maker -it has a great "look and feel"!
I do not deny this factor, this delonghi coffee maker looks very good with its black and and stainless steel finish, and I think that if a piece of equipment is going to be part of your house for a while, it is always good that it looks good.
Of course, that is not all about this delonghi DCF212T. One thing to note about delonghi coffee maker and their espresso maker are their features, I find that delonghi usually come loaded with more features that brands like Mr Coffee or Bunn.
This delonghi comes with the usual features of a 24 hour programmable digital timer and a 2 hour shut-off button. Two of their features which I think would add value to coffee drinkers are the aroma button and the pause and serve button.
The aroma button works in such a way that it releases water in 30 seconds intervals to extract the best flavor and aroma from the coffee grounds. The water steeps the ground then 30 seconds later, another burst comes in to infuse the ground again.
*When it comes to brewing good coffee, I would like to invite you to join our 3 part course to brewing good coffee, it is free, hope you like it...
Pause and serve is similar to other coffee maker features that allows you to stop the brewing process and "steal" a cup before the brewing process completes, coffee drinkers really cannot wait!
Some of my other articles spoke about delonghi espresso maker, so I thought it would be good to feature a high value coffee maker from delonghi, and I think this DCF212T more than meet this mark, hope you find it so too...
**It might not interest you, but if you like to learn about free coffee, this link might point you in the right direction...






Other articles related to Delonghi Coffee Maker
Delonghi DCM900 Would Awe Your Guests
Delonghi dcm900 is without doubt, one of the more popular coffee machines in the stable of delonghi coffee makers. Check out why it can awe your guests...



DeLonghi Espresso Machines Are Well Known
Delonghi espresso machine would be a name you come across if you have ever look for an espresso machine. It is affordable, reliable and has good customer service.


Have You Heard Of Bar32 From DeLonghi?
Delonghi bar32 is a popular espresso maker amongst all the delonghi coffee maker, the main value add is of course its ease of use.


Why This 14 Cup Coffee Maker By DeLonghi Is Still Sellable?
14 cup coffee maker is a big brewer that many families might not want to invest in. So, why is this coffee maker by delonghi still so popular?


Different DeLonghi Coffee Machines Same Value
Here we talk about 3 different delonghi coffee machines, while they all have different features and functions, they offered the same thing to a consumer -what is that?


The Delonghi Espresso Maker That Does Not Look Delonghi!
Most of us would think of an espresso machine as being silver or black and with sleek outline. And most delonghi espresso maker looks like that, except one


My Choice among All DeLonghi Coffee Makers
Delonghi coffee makers has choices ranging from single serve to drip filter, so which is a better choice. If I would to choose, I would go for the delonghi ECC155 and here is why...


Lattissima Coffee Maker DeLonghi is Retailing Can Give Great Café Quality Coffee
The Lattissima coffee maker delonghi markets for Nespresso is superb. In terms of cost, it is lower than most espresso maker, but it is better in terms of quality and operation.



The Many Ways to Drink DeLonghi Coffee
In this delonghi coffee article, I would explored the many equipments that delonghi has that can assist you to brew a better cup of coffee...


De Longhi --- One of the Biggest "Small" Appliance Makers in the World
A brief insight on how De longhi grew from a "small " appliance maker into one of the biggest "small" appliance company


Get $74 Delonghi coffeemakers at below $50
There is no special discount or promotions going on fro delonghi coffeemakers, all you need to do is to spend some time looking and you would enjoy discounts such as this...


A Good Dual Pot Coffee Maker
Dual pot coffee maker is a brewer that is able to brewed both espresso and coffee, this is a value add that this range of coffee makers has


DeLonghi Coffee Pot For DCM485
A stainless steel delonghi coffee pot that comes with the delonghi DCM485 not only looks good, it is a great tool to have that would provide you with fresh coffee for hours


Prima Donna of Delonghi Coffee Machine
This delonghi coffee machine is also called ESAM6600 Prima Donna, and it rightly deserves the name. It looks like one (attractive looking) and has many high end coffee brewing features...


One of the best priced Delonghi cappuccino makers
It does not matter if you do not know the differences between each of the delonghi cappuccino makers, knowing that there is a machine that is 50% cheaper, should sound interesting to you right?


Why Delonghi Magnifica is always hot
Delonghi magnifica ability to provide you with a hot drink lies in its seamless transfer from grind to brew, and of course, the temperature control within this machine is also superb...


Delonghi KG39 84g coffee grinder is just right
Delonghi Kg39 84g coffee grinder is right in many ways, the right serving, the right price, the right look and feel and many more...


Delonghi Drip Coffee Maker DCF212T is very convenient
The delonghi drip coffee maker, model DCF212T is popular for a very interesting reason -it is frontal access. While this might surprise you, it is actually a very useful feature...



Have A Great Story About Delonghi Coffee Maker?
Do you have a great story about Delonghi Coffee Maker? Share it!
What Other Visitors Have Said
Click below to see contributions from other visitors to this page...