Artificial Intelligence |
Augmented Reality Training Course | Singapore
Temasek Polytechnic AI and augmented reality training course is a 1-day workshop comprising of Augmented reality (AR) in the morning and Artificial Intelligence (AI) in the afternoon.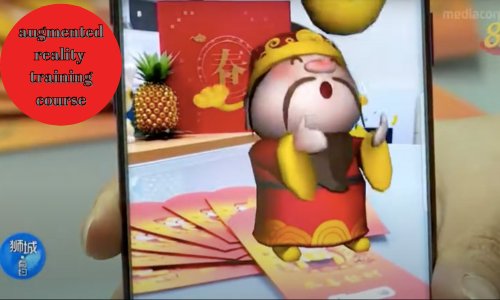 It is run by TSA (Temasek Skillsfuture Academy) and eligible for SSG (Skillsfuture grant), learn more about this AR and AI workshop (and sign up) on the Temasek Polytechnic page. 
Since starting in 2017, it has had participants from different industries such as Air Transport, F&B, Education, construction, government agencies. It has trained companies such as SIA, DNATA, Temasek Polytechnic, Enterprise Singapore and more. 
One key highlight is the opportunity for the learners to create their own AR experience, they get to create a marker-based augmented reality experience (e.g. an AR name card), so far learners have found it very enjoyable. 

Some other questions that the morning AR session addresses are: 

How does augmented reality work? 
How marker-based augmented reality works
Does augmented reality increase sales? 
How is augmented reality used in education? 
How to create an augmented reality business card (in the hands-on section). 
While the initial run (public run) focus more on retail and F&B marketing, over the years, course creator Ebenezer Heng has augmented and enhanced it with a wide spectrum of industry examples (e.g. project management) to benefit learners from different industries. 
---
How AR increase sales revenue
A short sharing on how augmented reality assist in the customer journey map and helps to increase sales revenue. Hope this will interest you in the AR workshop. Learn more about the Skillsfuture AR workshop.  
---
Temasek Polytechnic TSA AR AI workshop overview: 
**COVID Update: Currently, format of the workshop for Augmented Reality and Artificial Intelligence classes is fully online and we are using MS Teams.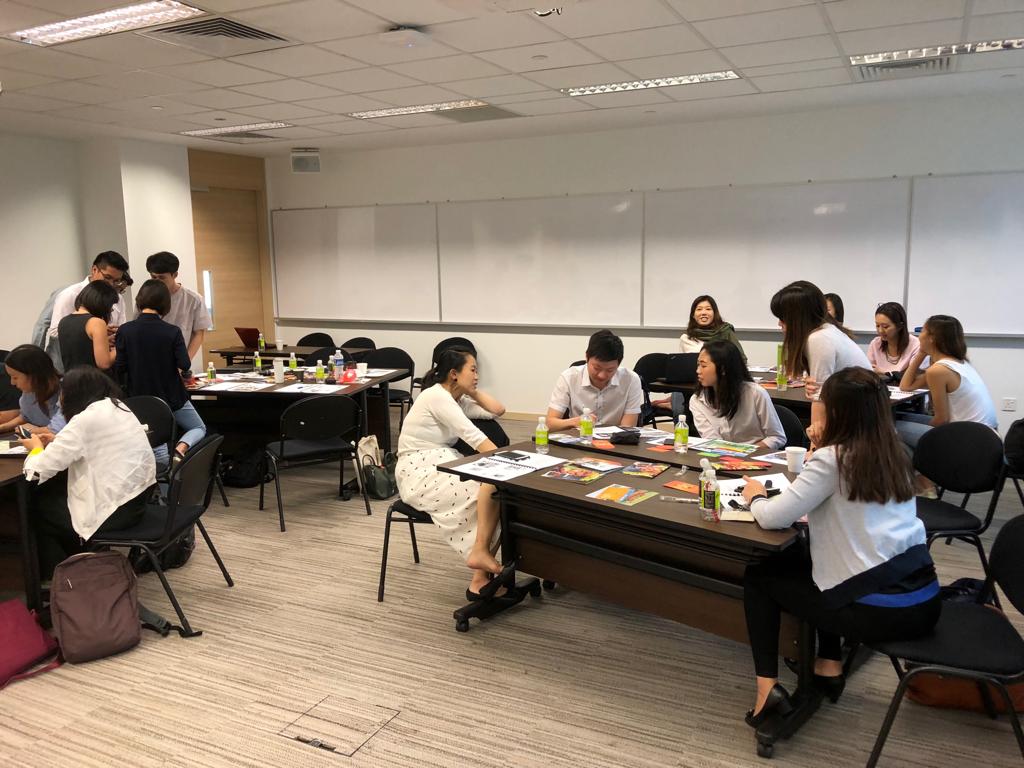 Temasek Polytechnic SkillsFuture Academy runs a 1-day Artificial Intelligence Augmented Reality workshop, sharing background, insights and AI + AR Ideas for your businesses. 
This Skillsfuture workshop comprises of both theory and practical segments. 
---
Theory
The theory covers the "why" for both augmented reality and artificial intelligence. Why countries and companies are adopting and promoting these technologies. How can this benefit you and your company (even if you are in B2B sales). 
Learners will be given an overview of Artificial Intelligence & Augmented Reality. They will be shown the various business applications of augmented reality and artificial intelligence projects. 
This is a course designed by Ebenezer Heng. The case studies are actual OCM and ePrism projects such as the one below. Click on to learn more about their other Augmented Reality Singapore Projects 

Practical 
The demonstration is an extension of the projects sharing, so learners will be using ePrism AR apps to experience how businesses are implementing their augmented reality ideas. And there will be live RPA engagement using OCM Chatbot. 
A few project demonstration will also showcase the relation between augmented reality and artificial intelligence (such as the Quorn AR NTUC Supermarket project show below). 
Launching your own AR campaign
The best value adds of this TSA course: learners of this workshop will be able to launch their own AR gameplay (using ePrism and OCM platform). The images below show some of the real AR game that participants from Enterprise Singapore (customised class) did. 
---
AR + AI Class Registering Details
Course Venue: Temasek Polytechnic East Wing 
Duration: 1 day (9 am to 5 pm) | Currently on MS Teams

Fee per participants: Starts from $40 (after Skillsfuture claim) | 

Contact TSA to learn how to get it free (Temasek Polytechnic ex-students & Alumni )
Submit on-line application here.
Using Augmented Reality (AR) and Artificial Intelligence (AI) in Business and Training (Select course code: ZGF)

For mail in application: 
Temasek Polytechnic | Temasek Skillsfuture Academy 
East Wing Block 1A, Level 3, Unit 81
21 Tampines Avenue 1 | Singapore 529757
Other Contact Details
 6788 1212| tsa@tp.edu.sg | http://www.tp.edu.sg/tsa
---
If you like to find out other workshops similar to augmented reality training course, check out our training page or drop us a message below to find out other F&B, marketing workshops and classes. 
---
Other SkillsFuture Courses 
Learn and implement your own augmented reality and artificial intelligence projects
Adopting Robotics and automation for your food and beverage business. 
EEP 2: How to open your own cafe business 
Learn and implement your own Food and Beverage Chatbot 
If you want to chat more about food and beverage market analytics, book a slot with us or drop us a message below. 
---
F&B Analytics Workshops
Sign up: Latest food and beverage analytics training
More info: Food and beverage industry market research 
---
---
Other Skillsfuture Related Classes 
Temasek Polytechnic: Food and Beverage (F&B) workshop adopting technology 
Digital 4.0 Class (NTUC + ITE) on F&B Chatbot 
---