Summary of keurig coffee makers






I wrote many things about keurig coffee makers, so I thought it would be good to provide a summary on the various types of keurig coffee brewer. In this article, I would start from the lowest price model and end off with the most expensive.
The lowest price and simplest in terms of features would be the keurig mini personal brewer, I do not think this is one of the most popular keurig coffee makers, but for folks looking for a budget keurig brewer, this would be the one. It does not have much function and only brew one 8 ounce cup at a time.
Then you have the elite home brewing system, which in my opinion, this b40 is the most popular of all keurig coffee machine. Retailing at $99.95 slightly higher than the mini personal brewer, it is able to do what the more expensive keurig brewers is able to do, but does not come with so many features and functions.
Its main value add that make it so much better than the mini personal brewer would be the reservior that is able to hold up to 8 cups, whereas the mini brewer has only capacity for one cup.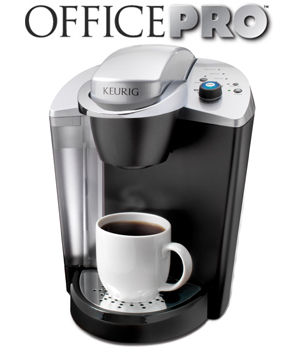 If you are looking for a good looking machine, then it would have to be the special edition home brewing system, the b60. It has some additional features like a digital clock, adjustable temperature and auto on/off.
But, to me its main draw is its look and feel. With its chroms accents and blue light that lit the water tank, it is a very attractive looking brewer. It is retailing at $129.95.
If you follow the Hollywood gossip, then you would have seen the platinum home brewing system. It has additonal functions such ast "set your favorite cup size" option, a larger water tank which is able to hold up to 10 cups before refilling.
Slightly higher priced at $169.95, its main value add is the range of cup size that you are able to choose for your brewing.
For office uses, folks would be familiar with the office pro brewing system, the main difference is in the operation of the machine. It is designed to be tough and can brew 10 times the volume of a home brewer and all the brewers are UL approved for commercial use and this meant that it comes with special construction and materials.
This coffee maker for the office would set you back by $249.95.
Now reading at this point, if you asked me out of all these keurig coffee makers, which would be my recommendation, I would say it is the keurig b40, the elite home brewing system. I think that it has all the basic function and features that is required to brew a good cup of coffee from the k-cups and that is enough for me.
For more information on the b40, check out this link: Keurig Single-Cup Brewing System #B40