Senseo coffee pods' good coffee comes from an old world charm infuse with a new age innvoation.

Can you believe that senseo coffee pods was actually a mistake? Shocked? Yes, it is still a great coffee for single serve coffee makers, i.e. Senseo. But, the name actually does not do her justice. She should be called coffee pads instead of pads, as she does not really have an exterior covering. Some say it was a marketing mistake from the Americans, but do we care? Nay, they are still great tasting coffee.
**Hey, wanna know another single cup coffee maker secret? This can better your coffee experience!
So much for the mistake, so what is really good about these senseo coffee pods?
Sure, she has the usual wide variety of blends of coffee, but the thing that you should be buying is its heritage. Senseo is the fruit of 3 big companies coming together to provide consumers a gourmet coffee solution. Philips the electronic giant, engineered the machines to dispense the right amount of aroma every time.
Sara Lee, one of the world's largest consumer packaged goods company provides the how-know in serving the good coffee in the 'instant' format. It is in quoted form, because although it can be served in an instant, senseo is not granules or freeze dried. They are actually coffee grains that is packed using advanced packaging technology.
And of course, it is Douwe Egberts the grand dame of coffee, that provides the blend and selection of coffee that has so many folks craving for cups after cups.
starting from 1753, Douwe Egberts has been roasting and selling coffee, so the experience that it has, is one critical factor that ensures the quality of every senseo coffee pods. And together with Sara Lee, they are the 2nd largest coffee roaster in the world, and say what you like, when you are big there is a certain advantage.
Just think of the R&D and the new variants that they are able to come out with season after season. This is an important factor especially for folks that are buying single serve coffee makers. These one cup machines are a closed system, which means one company pods cannot be used for another company's machine. So, the increasing variants for Senseo means you have more choices -an important consideration when buying these make of machines!
Let's see what one can expect from the senseo coffee pods:
The Blend
Rather than indicating weakness and strength like some other single serve companies, senseo brings you closer to coffee by showing you what individual countries coffee can offer to you palate.
They have the Brazilian, which is softer in taste. For those that love coffee with a body and that are strong, try the colombia blend. Then, they have an interesting fruity taste from the Kenya blend.
The Interesting
Now, some one cup machines has milk pods and stuff to enable you to make that cappuccino, i.e. K-cups. For senseo, they simply fused everything into the pod.
And this blend allows you to enjoy a rich, creamy, frothy cappuccino with a push of button.
Other than the cappuccino pods, Senseo has another flavor which I think can really match those caramel latter in Starbucks -called Paris. These pods produce a sweet french vanilla taste.
The interesting range (which I termed it) also has a killarney which is a blend of Irish cream and vanilla and there is the Vienna, with a combination of hazelnut, vanilla and mocha.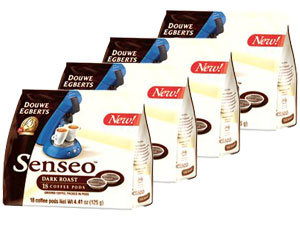 I would say that the appeal of Senseo coffee pods comes from its old world provided by Douwe Egberts and the innovation that they have done on its different blends.