Coffee pod can be "made" at home with 'Brew-Yet
Coffee pod that does not come in the blend of coffee you wanted is a major drawback in the single serve coffee industry. The single serve coffee suppliers have tried ways and means to mitigate the situation.
Firstly, most single serve coffee makers allows you to use a variety of coffee pods. Then, they tried to come out with more and different blends very season to cater to as many taste profile as possible.
However, to get the exact blend that individuals like, can only be achieved if consumers are allowed to "make" their own pods. Personally, using what I call quack methods, highlighted online should never be attempted.
You would almost definitely spoil your coffee and sometimes, your single serve coffee machine as well. There wasn't a solution until the arrival of "Brew-Yet" coffee disc maker.
This is a machine with the specific purpose of making your own coffee pod. So, with this "Brew-Yet", you can roast your own blend, grind the setting you want and make a couple of coffee pods to be given as gifts or stock up to drink later.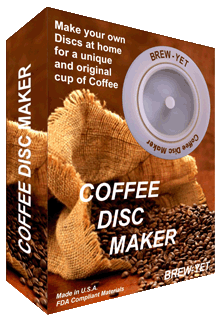 And the folks at "Brew-Yet" to be in line with single serve coffee mantra of drinking coffee easily, allows you to make your pods easily as well. All you need to do is to find the coffee filters that you used for drip coffee maker,fold up the coffee into the pods then use the machine to seal it.
If you thinking if it is approved by FDA. The coffee filter paper that you are using is and the materials used for the machine, are all FDA compliant, so hygiene and health issues.
The beauty of the "Brew-Yet" is not something designed by the big coffee roasters, its creators are folks like you and me. They loves coffee, wanted to have coffee pod that has their own blend of coffee, so they experiment and created the "Brew-Yet" coffee disc maker.
From what I see, there are only 2 machines that would not be able to benefit from the "Brew-Yet", the Keurig and the Tassimo, the former having its own patented K-cups and the latter using its patented T-disc.
Other than that, all other single serve coffee makers like, Senseo, Melitta One, Krups 1010, Cuisinart SS-1 and other coffee maker should be able to use the "Brew-Yet" to customize the pods.
Your single serve coffee makers has no mess and is easy to use. Now, you can go one step further and create your own pod with the coffee you like easily too, drinking your favorite coffee easily...


Not this, but coffee makers that you are looking for?