Melitta coffee pods wide array of pods should appeal to anyone.
Melitta coffee pods, similar to all one cup solutions, is a closed system. So, the pods are exclusive for its Melitta brewing system -The Melitta One.
Similar to all single serve coffee makers, it is simplicity that Melitta one has. It boast of the usual functions, like small footprint that would not have up too much space in your kitchen, in all it is less than 4 kg! Of course, after the revolution of I-mac (apple computer), everything must be stylish, and this coffee maker is no exception, with colors to choose from basic black and white to the louder red, kiwi and mango.
I was wondering if I should include a paragraph on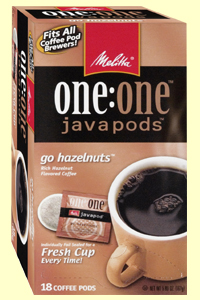 how Melitta coffee pods works, , because they are so simple. But, since I am at it. Here it goes: Place the pods into the coffee maker then press the button -yes, that's all for the operating instruction...
As to how The Melitta one works, I probably would not be able to assist in this, coz I believe this is a trade secret that they probably 'have to kill me if they tell me' sort of situation. I can tell you though, is that when you press the button, in less than a minute, your coffee would be ready, of course the coffee pods must be inserted first.
Strength wise, other than choosing from the dazzling variety of pods, one can choose to make a stronger 5 ounce (they call this the European style setting) or a milder 8 ounce (call the American style setting).
If you read till here and are still wondering why people get Melitta coffee pods, as highlighted above -convenience and this point would again be strengthen below. No burnt coffee on carafe, no stale beans, no setting to learn -just one button to push.
And if you are wondering if you can get the roast you want, you would not be disappointed, ranging from light roast all the way to dark roast -Melitta took care of all the different category roast.
If it is decaf you are looking for, sure -they have their 'One decaf pods'. Following the trend for flavored coffee, they have their vanilla, hazelnut, pecan pie etc type of flavorings to offer different for people that are adventurous.
To me, the range of Melitta coffee pods would be one strong point, that one can consider if you are choosing a single serve coffee maker, oh, they even have a tea pods to better this deal.
But...taste rules. Do a trial, have a taste test of the pods, and decide if you like the range that they offers -remember the golden rule, closed system. Once you buy it, you have to take what is offered to you.