Office Coffee Survey reveals big office market, with very few coffee machines! 
This office coffee survey shows a high proportion of coffee drinker, yet are underserved by very few office coffee machines. 

This survey was done during the Office Expo Asia 2019, targeting 1000 professionals. In total, more than 1000 people filled up this questionnaire on coffee machine. 
Key learnings from this survey on coffee consumption: 
Number of coffee drinkers 

Reasons people are not drinking coffee in the office 

Coffee options in the office 

Types of coffee machines in the Office 
---
1. The Number of Coffee Drinkers 
Out of the sample size of 1088 participants, only 84 or 7.9% shared that they do not drink coffee. And more than 50% drink more than 2 cups of coffee daily. 

Result: Coffee remains to be the dominant beverage in the office 
Of the 84 people that are not drinking coffee:
26% is due to a medical reason
50% is based on preference (Tea Drinker)
Another 24% is due to the low quality of coffee being served. (Potential to convert to coffee drinker) 
For all the survey questions below, do note that the respond numbers are out of 1088 respondents from this survey. 

---
2. Reasons people are not drinking coffee in the office 
Of the 168 people that are not drinking coffee in the office: 
56% is because of the preference of cafes' quality coffee 
25.6% is because of the low quality of coffee served. 
Thus, better quality coffee can likely see more people drinking coffee in the office.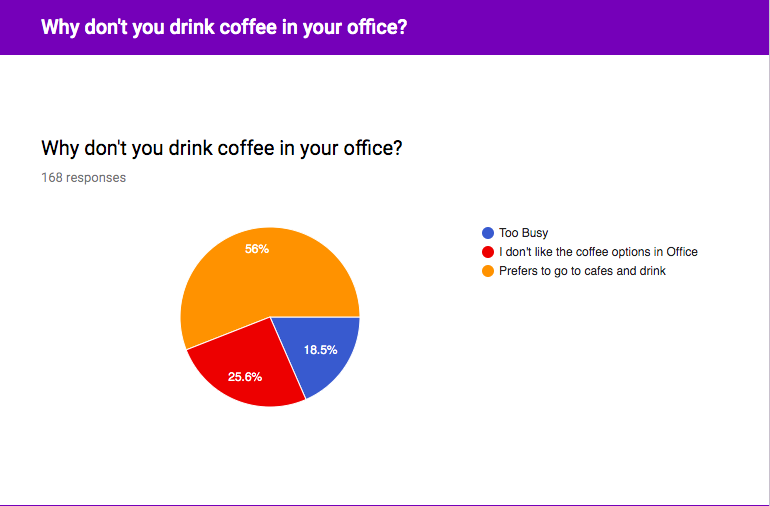 ---
3. Office Options in the Office (interesting facts for all office coffee machine suppliers)

This office coffee survey is directed at a working crowd in Central Business District, it is surprising that only 38% shared that they have coffee machines in their offices (out of the 869 responses). 

Equally surprising is that 3-in-1 instant coffee is still available in 27% of the offices. The rest of the 35% of participants buys their coffee from cafes or other Food and beverages outlets. 
This result showcase the potential and huge untapped market for office coffee machine suppliers to start developing. 
---
Find: Free Coffee near you (Free Coffee in Cafe/F&B)

Find: Free Office Coffee Machine (+ enjoy $1200 vouchers)
---
---
4. Types of the coffee machine in the office 
A survey on office coffee always felt like doing a questionnaire on Nescafe coffee, simply because Nescafe is so dominant in the office coffee services.
So, it is interesting to note that of the 316 response sharing about their office coffee machine, only 22.8% is using an instant/freeze-dried format coffee machine. 
The majority of the offices, 42% is using Roast and Ground Coffee Machines while 34.8% is using a single-serve coffee maker such as Nespresso. 
Conclusion
There is a lot of potential in the office coffee market with only 7.9% being non-coffee drinkers and more than 50% of the survey respondents do not have a coffee machine in the office. 
If this office coffee survey prompts you to get a coffee machine, click on the link to learn more or contact us below to get a free machine installation. 
And if you enjoy this simple survey, you might be interested in our other sentiment reports on coffee brands such as Starbucks, Costa etc, . Drop us a note below to get the report. 
---
---
About US | OCM Profile
OCM was started in 2007, focusing first on coffee machines, then marketing for F&B outlets, subsequently training and consultation. OCM's Chatbot for the F&B industry is used in the Singapore Skillsfuture Classes in Temasek Polytechnic Skillsfuture Academy and also ITE College East COC classes. 

OCM's Augmented Reality Apps - ePrism is also the only AR apps used in the SkillsFuture framework in both Temasek Polytechnic and ITE College East. Learn More about OCM
Contact us to enjoy any of these free restaurant Marketing solutions today! 
---