The Good Old Cory Coffee Maker



Have you ever heard of Cory coffee makers? Cory coffee brewers can usually be found and purchased in online sites and stores such as EBay.
However, most people would not have heard of Cory brewer. This is because Cory designed and manufactured a variety of vacuum coffee makers.
Most people would not consider using a vacuum coffee to brew coffee on a daily basis.
However, back then, during the first half of the 20th century, which was considered as the Golden Age of vacuum coffee makers, Cory coffee brewers, along with Silex, were popular and widely used particularly in North America.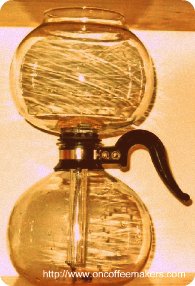 In a sense, Cory coffee makerswould be the equivalent of the leading coffee maker brands of today, such as Krups, Braun, and Gevalia, and Cuisinart Coffee Makers, among others.
Although Silex was widely considered as the leading brand of coffee makers in the 1930's, its primary competitor was the Cory Coffee Maker Corporation.
This is mainly due to the innovations that they introduced with their Cory vacuum brewers, such as the glass filter rod, the flip-up decanter cover, and a design that does not make use of rubber stoppers.
The decline of the age of the vacuum coffee makers could very well be attributed to the advent of the automatic drip coffee maker during the second half of the 20th century.
Using an automatic coffee maker, whether it's a glass carafe coffee maker or a thermal coffee maker, is easier and more convenient.
Moreover, vacuum coffee makers are usually made of glass, and are very fragile.
Automatic drip coffee makers are either built as plastic or stainless steel coffee makers, and as a result, these are more durable and reliable.