DeLonghi Espresso Machines Are Well Known
When talking about high quality coffee machines, DeLonghi espresso machine is one of the best brand to consider.
It manufactures different kinds of products, from espresso machines, toasters to oven to coffee makers. You can assure that this company's products are of good and high quality that you'll surely enjoy.
To begin with, when does DeLonghi company started? Did it started from a little business like any other company?
In the early 1900s, DeLonghi Company started as a craftsman workshop and they are located in Treviso, Italy. DeLonghi has been famous all over the world because of their stylish and innovative Italian design.
---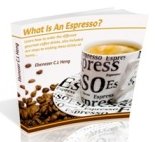 This ebook 'what is espresso', talks about the different variety of espresso drinks, what is their differences and of course how to prepare them.
You would learn how to use a professional espresso machine after reading this book, but you would definitely know more about espresso.

---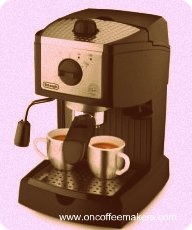 In year 1980, DeLonghi established a U.S. subsidiary in America and they named the subordinate as DeLonghi America.
DeLonghi America was located in Saddle Brook, New Jersey. This is also where they introduced the very first Electric Oil-filled radiators in the American market.
As time pass by, DeLonghi America started also to launch some of their products like DeLonghi espresso makers, Air treatment and cooling products, Toaster ovens, Deep fryers, Drip coffee makers, and other home appliances.
Aside from the fact that DeLonghi brings outstanding appliances to the market, they were also known to produce long-lasting and high quality products.
They were dedicated to satisfy their customers by providing them a product which is better from the others.
Moreover, DeLonghi gives full attention to their products. They also make sure that their products do not only look beautiful but to make their customers' life beautiful as well.
DeLonghi Company lived by their philosophy "The folks at DeLonghi always have you in mind."
DeLonghi espresso machines are well known all over the world because of its unique and interesting features. They come in different model so that the customers has some options which model are they going to buy.
Even if the espresso machines somewhat uses digital principles, the company still manage and make sure that the machines are easy to use.
Aside from DeLonghi espresso makers, some products of the company also sold other machines to top coffee shops like Starbucks.
One product they sold to the said coffee shop is the DeLonghi thermal machine. This product's features are great for coffee business.
One of best product that DeLonghi has is the Nespresso DeLonghi Lattissima. Ever wonder why it has the word Nespresso?
Well for you to know, Nespresso and DeLonghi joined venture to create this machine. This machine can make four basic coffee styles. They are the Espresso, Lungo, cappuccino, and finally the Latte Macchiato. Lattissima has many other features that people will surely enjoy (and that include you).
Of course, everyone that drinks espresso would have heard of DeLonghi EC155. This machine doesn't inquire much out of you in terms of price or cost, but it gives you a lot in return.
It has also a strong set of basic features. DeLonghi EC155 is another great invention of DeLonghi Company.
With these great machines like DeLonghi espresso makers that DeLonghi created, many customers are turning on to them. So, what are you still waiting for?
Try these machines and enjoy a great tasting coffee at home.
Delonghi is good, but you want to know more about other coffee brewers before making a decision, check out our homepage for more information.