Delonghi KG39 84g coffee grinder is just right



The Delonghi KG39 84g coffee grinder is just right in terms of being able to produce just the right amount of coffee grinds one requires. First impressions always count.
This appliance has a classic hour glass "figure" which reminds one of many a famous screen goddess of years gone by. Whereas looks can often be deceiving, this Delonghi coffee grinder delivers in terms of service what it promises in terms of looks.
The Delonghi KG39 84g coffee grinder is what you require for converting your favorite coffee beans into the fresh grounds that will deliver on the promise the aroma of freshly ground coffee beans make.
---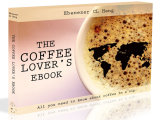 Love coffee? Here is some more "free stuff"! Learn more with this ebook (is free!)



---

Sure there are many coffee bean grinders on the market; in fact some of them are quite good. The Maestro grinder or the Capresso grinder will also grind your favorite beans into fresh grounds.
However, the Delonghi KG39 84g grinder is able to grind precise portions. You can grind beans for anything from a four cup to a twelve cup brew.
Eighty-four grams converts into three ounces, the correct amount of coffee grounds required for twelve cups of coffee. The range of portions for which coffee beans can be ground with precision range from four to twelve cups.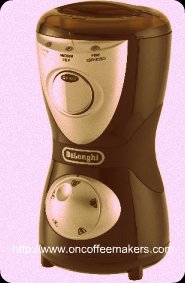 This Delonghi coffee grinder also allows the coffee lover to determine the degree of grind catering for those who would prefer finely ground coffee for their espresso machines and catering for those who would prefer coarsely ground coffee for their percolators.The full range is possible.
The Delonghi KG39 84g coffee grinder will do what the sophisticated espresso coffee grinders will do; prepare coffee grounds with consistent accuracy.
Accuracy in the degree of grind as well as accuracy in terms of portion size are characteristic of this coffee grinder. The diminutive Delonghi KG39 coffee grinder is compact and relatively light.
It allows for cleaning which is important. Any residues left in the grinder can taint the fresh grounds of future grinds.
Even the most expensive coffee in the world runs the risk of being tainted by the rancid remnants of past grinds which might still be trapped in the coffee grinder.
The importance of thorough cleaning can therefore never be under estimated. The KG39 84g coffee grinder will also fit into any small space on your kitchen counter or into small space in your kitchen cupboard. The elegant design will complement any kitchen décor concept.