Cuisinart coffee makers for the price of a mug?






Cuisinart coffee makers,why are you looking for it? Yes, it does have the complete range of coffee makers, from espresso machines to the single serve, but why not the other brands?
Chances are, you are a repeat customer, wanting to repeat that great experience that this brand of coffee maker gives. Or, you are a user of it's other products and similarly wanted to see if they make great appliances for coffee as well.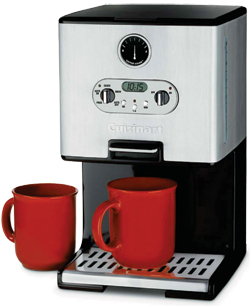 Regardless the the driver for your search on cuisinart coffee makers, the truth is- they are great machines, although being in the coffee makers industry for less than 15 years.
This has probably to do with the company culture, on innovating their products to better the value offering to consumers. Since it inception in 1973, with imported wares into US, they have been continuing refining and renovating their appliances and has earned their place in the competitive household appliances industry.
So, which cuisinart coffee makers would be the one? They probably have similar offerings akin to that of Bunn or Melitta, but based on observation and high usage, I would think is the DDC 2000 and their ever popular "2-to-go" TTG 500.
I guess every brand would has their "Secret weapon" to awe the consumers, and for her, that would be the "coffee gauge".
The DDC 200 "coffee on demand" has exactly that and I would think that is the main draw for this model.
Other than that, it has the usual offering of a programmable 12 cup coffee machine. Aptly termed the "Coffee on Demand", the DDC 2000 by using a simple level can deliver single cup, up to 12 cup. And the coffee gauge, highlight to owner how many cups, is left in the coffee maker.
Other than this, I think their inclusion of charcoal filter is another important aspect for this machine winning so many purchases. Water that has lesser chlorine, to me, makes better coffee.
if you find the almost 100 dollars for the DDC 2000 steep, then the next recommendation would delight you! The "2-to-go" cuisinart coffee makers, retailing at no more than 30 dollars, is one of the cheapest model around.
The value add for this coffee maker, is its mobility. Who has the time to brew then pour into coffee travel mugs? With this TTG 500, the coffee is brewed into the two 14 ounce thermal mugs, and off you go to work or play.
Considering that most insulated coffee mugs cost between 15-30 dollars, this cuisinart coffee maker is a steal with its below 30 dollars retail price. And that might explain its popularity in the coffee maker industry. This is really what we called "cheap and good"!
There is nothing wrong with cuisinart, but if people are new to coffee makers, usually this might not be top of their mind. And, folks that are looking for this brand for their coffee solution have in one way or another experience their goodness.
To enhance this good experience, these 2 cuisinart coffee makers, DDC 2000 and TTG 500 would definitely achieve that.
**Wanna know more about why coffee cuisinart maker brews is better, check out this page...