The one cup coffee maker that is below $20, do you believe?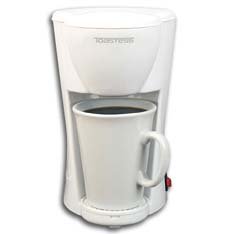 Mentioned one cup coffee maker and names like Keurig, Senseo, Melitta would come to your mind. And together with those names are the dollars and cents.
Regardless how good these one cup coffee maker can be, they comes with a higher cost structure, from the machines to the pods they are more costly than your usual drip coffee makers.
Then you must be thinking about how am I going to get find a low cost single serve coffee machine below $20. The thing is, there are one cup solution that does not belongs to the single serve market.
It does not have the characteristics of the single serve: pre-measured, vacuum sealed coffee pods. None does it has the simple operating: insert the coffee pods, press a button and enjoyed the cuppa.
They are the coffee makers, which you need to measured the coffee grounds, monitor the brewing time and wait for a longer period (compared to the single serve coffee machines, i.e. keurig).
None are they able to brew espresso, latter or cappuccino with froth. However, you would be able to choose your coffee blend, adjust the amount of grounds for the intensity you would enjoyed and it is all dispensed one cup at a time.
Yes, all these makes them sounds like drip filter coffee maker and they are! Devon DT-1cup and Toastess TFC-1 are such one cup coffee maker.
It comes with all the fittings of a drip filter coffee machine like a reusable filter, a small boiler and a brewing unit that drip the coffee into your favorite mug.
Sure, it is in all ways a drip coffee maker. But, think back on why are single serve coffee makers so successful?
Maybe, is the wastage that folks no longer want to stomach, wasting one pot for a single cup of coffee or it could be the burnt and bitter taste of coffee that they suffer from the coffee staying too long on the heating plate!
The Devon DT-1cup or the Toasteess TFC-1 are able to produced just one cup of coffee and at a so much affordable cost. In fact, these two one cup coffee maker retails at less than $20!
The low cost for the single serve convenience are perhaps the strongest pull factor to grab one of these coffee makers for your next cup of brew...


Looking for other coffee makers, click to find out more...