Best drip coffee maker should be...



Difficult. Your best drip coffee maker might be different from mine or your love ones. I usually find such "best" title difficult to tag to any coffee makers.
But for the sake of discussion, I would choose one and you see if you agreed with me. The time to brew coffee must be short and there must be minimum wastage of coffee.
At this moment, if you are thinking about what defines filter coffee maker, this link might helps...
This 2 criteria is even more important when looking for the best drip coffee maker. Most drip coffee maker, by its nature of a drip brews coffee at a slower pace. And as most are using warmer plates, the coffee tends to be either stale (not hot) or bitter (too hot).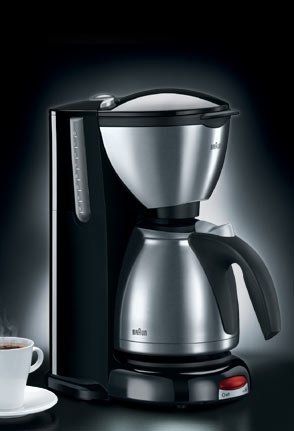 So, if I would to look for a best among the drip coffee maker, then it would have to fulfilled the 2 criteria highlighted above. If it is about storing coffee and keeping it hot then I would definitely suggest the Zojirushi EC-BD15BA.
However, we are looking for a speedy brew as well and in the market there are many models that are faster than the Zojirushi and one of them is the Braun Impression KF 600.
If I would to choose, then Braun KF 600 would be my choice for the best drip coffee maker. Simply because it does a quick brew and it has a thermal ability to keep coffee hot for up to 4 hours.
The fast brewing is important if you do not want to drink stale coffee. Some folks actually told me that even with a thermal carafe, sometimes their coffee is merely warm but not hot. This, I believe is due to the brewing process.
Dripping through a filter is not a fast process and when interact with the environment, the coffee cools down. So, one of the criteria to being a best drip coffee maker is to have fast brewing -like Braun KF 600.
Brewing hot coffee is great, however, after spending time brewing it, you look forward to enjoying a few more cups in the hours to come. Most drip coffee maker offers warmer plates as a solution to keep your coffee hot.
However, if the temperature is set too low, the coffee still becomes stale. Set too high, you would burn the coffee. Only a good thermal carafe can deliver hot coffee after 3 hours.
In this area, Braun KF 600 score another win with its thermal carafe ability to keep coffee warm for more than 4 hours.
There you have it, my version of best drip coffee maker , able to brew coffee speedily and able to keep it hot for hours...


This is not the one? Look for YOUR coffee makers here...