Gevalia coffee maker, you are buying a piece of heritage.
Gevalia coffee maker is not much different from your Bunn or Cuisinart, but they have something that this 2 cannot boast about. Gevalia, has been producing coffee since the late 1800's. That is the heritage that you would get when you purchased one of these.
There are a few models for you to choose from, called me biased, but I hate burn coffee. Warmer is great, but mis-use would lead to coffee with burnt taste. Regardless what heritage, what technology went into packing the roasted coffee to keep it fresh, the warmer spoils everything.
So, naturally my focus for any coffee maker would be one that once brewed, need not to be "warm". Entered the Gevalia Fresh Brew Stainless Steel Thermal Carafe coffee maker.
The best value add for this gevalia would definitely be its thermal carafe that can keep coffee warm for hours. No worries about stale coffee from low heat, or burnt coffee from high heat.
This fellow pack the usual features, like the timer that allows you to set your brewing so that you would wake up to a fresh brew of coffee. A '"pause-and-serve" function for to get the amount of coffee you need.
With machines, cleaning is a must, this thermal gevalia coffee maker has a stainless steel filter basket that is easy to remove, making it easy to clean -hassle free.
Now, the ease, the ability to keep good coffee is just some functions of gevalia coffee maker. As highlighted earlier, the key thing is Gevalia. You must brew good coffee before you can store them!
Gevalia coffees are tested by 3 master cupper in the world, **I do know who they are, am trying to find out myself!, and from there, comes interesting, exciting and even adventurous blends.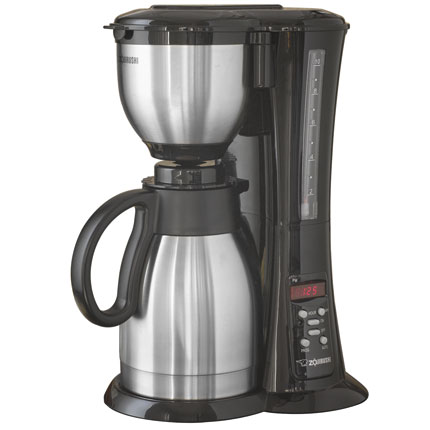 What you can put inside your Gevalia Coffee Maker
Forget fine grind, Arabica, Robusta, the following really excites one taste bud:
Hazelnut is a delicate and mellow coffee with a smooth hazelnut flavor and slight vanilla taste.
The Colombia gives you smooth and refreshing coffee with a rich, complex, and vibrant flavor.
Kenya allows you to indulge in a full-bodied coffee with light floral aroma and deep, berry-like undertones.
Medium Roast provides a smooth, full-bodied coffee with a heavenly aroma
Lastly, the Dark Roast would give one a full-flavored coffee with an enticing aroma without any burnt taste.
Yes, I would want to point to you that if one does chooses a Gevalia coffee maker, other than its great function, their coffee would be another draw...

Found your grinders? Wanna look for roasters, machines?