Zojirushi coffee maker is "hot"!






zojirushi coffee maker is still best at what the brand stands for -keeping stuff hot! Since Zojirushi started more than 80 years ago with the launch of its first glass-lined vacuum bottle, they are known for this competitive advantage, maintaining the temperature of the liquid or food in their container.
And this proves to be a strong appeal to coffee lovers where cold coffee means bad coffee -noting that brewed coffee only remains fresh for minutes. Zojirushi by virtue of its technology is able to keep the cuppa fresh for a few more minutes and is has awed the consumers.
Wall street journal did a test with 30 plus coffee makers and using Zojirushi EC-BD15BA as a participant in the test, consumers ranked it higher than most thermal carafe coffee makers.
While the consumers' ranking did not put Zojirushi coffee maker as the best, it has listed it as the best value coffee machine. And the feedback from this poll was focus on its ability to keep the coffee fresher while keeping it hot.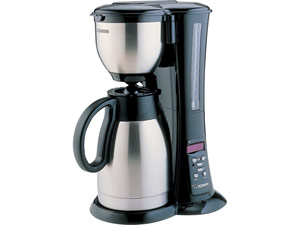 Hot and cold problems has plagued drip coffee makers ever since this invention comes into place. Of course, if the temperature is not well maintained, cold coffee would taste stale and undrinkable. Too hot, and it would burnt the coffee and gives you a bitter tasting coffee.
So, I believe it is these problems that have consumers awarding high points just for zojirushi coffee maker's ability to keep the coffee hot (and not burnt the coffee).
Thus far, that is the only value that has been generating a lot of buzz. This zojirushi is not without its weaknesses, many feedback that the placement of its control on the side, the hard to remove carafe lip and the small sprout, is making it not too user friendly.
While not many people would consider it to be in the best coffee makers' category -the fact that it has garnered many favorable words in a major poll, seems to me that there are folks that might be interested in this make of machine.
A machine that is good for one thing -a very important thing, keeping your coffee hot for maximum freshness.
Like all its fellow machines, Zojirushi EC-BD15BA with a 1.5 liter capacity, with a vacuum stainless carafe, look very appealing and is great on your kitchen counter top.
Of course, the best thing about a Zojirushi is its thermal carafe that can keep coffee hot for hours without the danger of burning coffee with a heating element. Other than that, it comes with timer module for you to preset the brew and its brew thru lip allows direct brewing and pouring (seems to be convenient but feedback is, it is too small for pouring).
It might seem like too focused to be discussing a make of Zojirushi coffee maker. However, as the gist of this brand is discussed and I believe it would be the same and is a good reference for further purchase, even for different model.
That would be Zojirushi fantastic ability to keep stuff hot...

Looking for more information before deciding if Zojirushi coffee maker is for you?