Bodum french press brew coffee easily and is very low cost
Sure, bodum french press is not as sophisticated as single serve coffee maker but they are just as easy to use. And, they also take not more than few minutes, the same convenient that instant coffee provides but taste much better.
We do have another article on French press but since Bodum coffee maker is the leader and has almost the entire market to itself, it deserves one article by itself.
French press or "plunger" system is a simple way to achieve a rich and robust cup of coffee. It's non reliance on electricity or stovetop makes it a favorite for coffee on the move.
You simply pour some hot water, put some coarse coffee at the end of the plunger which is a frame with tight mesh filter, let the coffee "steep" for about 5 minutes then depress the plunger to enjoy the coffee.
It is that simple, so how much do you expect to pay for the best in this category? Nothing more than $50! It is easy, cheap and brews great coffee.

Check out the ESPRO World's Lightest 16 Oz Coffee Press in Singapore by Kaffa Kaldi Pte Ltd 
---
Enjoy: Free Coffee near you (Free Coffee in Cafe/F&B)

Enjoy: Free Office Coffee Machine (+ enjoy $1200 vouchers)
Find: Where to buy Coffee Beans in Singapore (or any where in the world)
---
---
For those with really low budget, then Chambord from the range of bodum French press is the one for you. It features a classic style with metal lid and comes with a 8 cup capacity. At $20, it's attractive design can even be used for an ornament for the living room.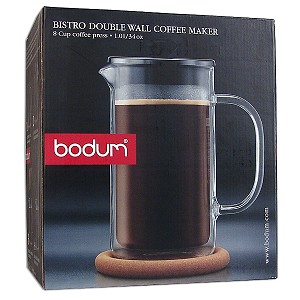 Chambord is economical and brews good coffee. However, my personal favorite from bodum French press is the bodum bistro 34oz. This is a double wall French press and one of its value add is in retaining heat.
While this bodum French press cannot be compared to a thermal coffee maker, however, it can keep your coffee hot and fresh for at least 1 quarter of an hour. A feature that you would greatly appreciate as you take time to enjoy your cuppa.
Bodum Bistro 34 ounce capacity allows you to make more coffee and its borosilicate glass construction insulate and keep your coffee hot longer.
While is cannot create any fanciful espresso drink that automatic espresso machine, it offers you coffee anytime, does not take up space, affordable and has the ability to extract the taste from the the coffee blend of your choice...
Not for you, wanna look at other coffee makers? 

---