Choosing Thermal coffee makers based on...
Thermal coffee makers have an added advantage of always supplying fresh coffee. It comes with the ability to keep coffee hot for at least 3 hours and above. So, personally, choosing coffee makers with thermal function should first and foremost be its thermal capability.
I have read and answer so many query about people's coffee makers serving warm coffee and amazingly it comes from thermal coffee machine! Sure, there are a variety of reasons, but I strongly believe that brand and make of the coffee machines play a very important part.
Price is an important factor when choosing coffee makers. And for these thermal coffee machines, nothing can get cheaper than a Toastess thermal coffee maker. It comes with a thermal travel mug and can brew up to 14 ounces of coffee.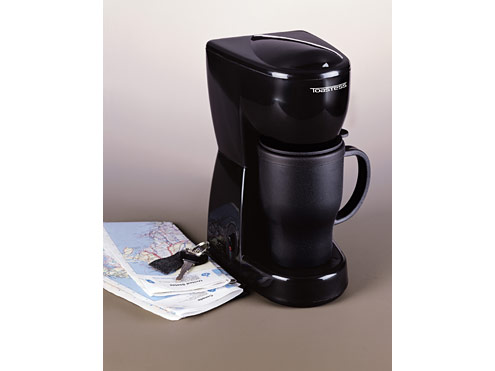 At some e-store, it is only retailing at $17.90! I believe this is the lowest that you can get for any coffee makers. However, there are complaints about its size and also its no automatically shut off function (which is actually quite dangerous).
So, while it still can keep your coffee hot, there are some values that have been traded off due to its low pricing.
To be fair, Toastess does not any negative feedback on its thermal ability. However, for more comprehensive functions and better tasting coffee from thermal coffee makers , you can opt for capresso MT500 plus.
Of course, with value add like charcoal filter that removes up to 83% chlorine and a beeper to alert you to change your filter. These thermal coffee machine does not come cheap.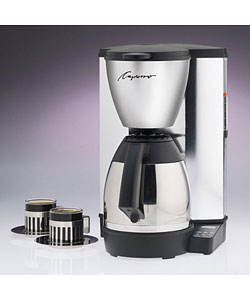 With a price tage of $189 approximately, you know that you are not only paying for the Goldtone filter, led display or even the 24 programmable timer. You are probably paying for the brand.
Produced from a joint venture between Jura AG (founded in 1931) and Capresso Inc., is a machine that incorporates the best in making coffee machines. So, at that price, you get high level of quality and reliable after service.
There you have it, either at $17 or $189, it is still thermal coffee machine. So, as long as it has the thermal functions that can keep you coffee fresh for more than 3 hours, it is a good thermal coffee maker.

Other coffee makers, do you want to know?