Hamilton beach coffee maker is always HOT...






Hamilton beach coffee maker is rated one of the best coffee makers for 2007. Yet, it is just the usual automatic drip filter coffee maker.
At about $40.00, Hamilton beach coffee maker is much cheaper than some of the Bunn or Mr coffee models, but if you are thinking that price is what makes it "hot", you would find that this fellow is more than that.
First, let's talk about the trade off for the lower pricing and apparently better performance. And for the Hamilton beach brew station, it is the lifespan.
Read any reviews, it would mostly be positive and the few negative ones that you read about, is about the short lifespan of this coffee machine.
It might be the structure or the materials they used for the Hamilton beach brew station, but to me, it doesn't matter. From the reviews, this fellow can last at least a year, and that is an investment of $3.40 per month.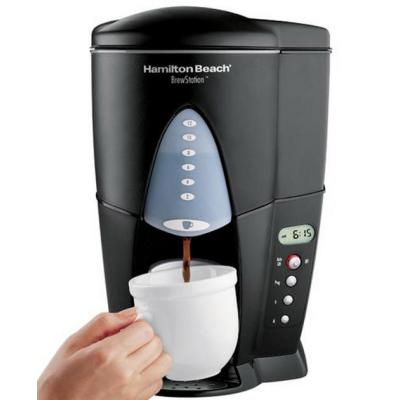 Moreover, the edge that they have over normal automatic drip coffee machines, are well worth even changing it annually.
When anyone talks about drip coffee machine, they would be thinking of carafe, heating plate, generally along that line. The hamilton beach coffee maker or hamilton brew station as it is known, does not have that.
The hamilton beach brew station does not comes with any coffee pots, it is better than that. For a serving, simply dispense it from the coffee maker. And this is one of the key advantage other than the low pricing that it is retailing.
Having an internal tank that can store up to 12 cups of coffee, hamilton brew station can function like a single serve, dispensing one cup at a time.
Other than having the ability of single serve coffee machines, the brew station's another great advantage over normal filter drip coffee makers, is its storing capability.
Yes, I am not using the wrong word, it is capability (although some might think that I meant capacity) to keep the coffee hot for more than 2 hours. Sure, most carafe can achieve that with a simple heating plate, but how do you find the taste of the coffee after 2 hours.
Most would say stale while the majority would agrees with me that coffee in carafe on heating plate after 2 hours, taste bitter, basically the heating element has burnt the coffee -personally I would not even touch this coffee!
So, this capability of hamilton beach coffee maker is its greatest advantage over this range of coffee makers and one which I think is important if you do not want to have bitter coffee at an affordable price.
In fact, hamilton beach has another stay or go coffee maker that brings this thermal function to the next level -it allows you to bring the coffee with you and can last for up to 4 hours!
There you have it, low pricing, single serve and thermal storage are the stuff that make hamilton beach coffee maker so HOT...


Find out even more about coffee makers