3 Reasons for French Coffee press
Check out the ESPRO World's Lightest 16 Oz Coffee Press in Singapore by Kaffa Kaldi Pte Ltd 
---
From the elegant and popular Bodum French Press and its thermal coffee presses, to the portable Jetboil coffee press, to the portable, yet elegant Bonjour coffee press, the French Press is one of the simplest, yet most preferred coffee makers by coffee lovers all over the world.




French coffee press is another term for french press or coffee press. The French Press comes in many forms.
There are three main reasons why French coffee press is still popular today, especially among coffee aficionados even though electric coffee makers are getting more and more technologically advanced.

First of all, French Press coffee is very easy to make. If you understand how the French coffee Press works, you will be able to make the best tasting homemade coffee with your own coffee Press.
---
Enjoy: Free Coffee near you (Free Coffee in Cafe/F&B)

Enjoy: Free Office Coffee Machine (+ enjoy $1200 vouchers)
Find: Where to buy Coffee Beans in Singapore (or any where in the world)
---
---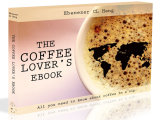 Love coffee? Here is some more "free stuff"! Learn more with this ebook (is free!

---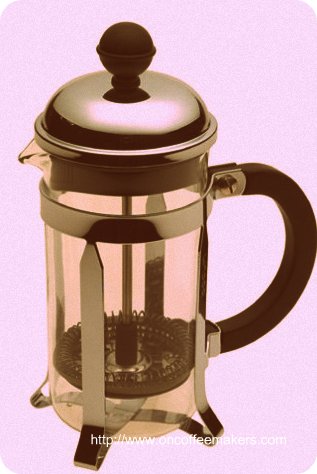 When used correctly, the coffee press can help you make the richest home brewed coffee you'll ever make.
• First and foremost, use coarsely ground coffee. When using the French Press, the size of the grounds is important as it greatly influences the end result.
Therefore, having uniform large coffee particles is paramount. Too fine, and the grinds will find their way through the filter, and you'll end up with sludge in your coffee.
Coarsely ground coffee beans will remain at the bottom of the filter of the French Press.
• Second, use hot water and not boiling water. Once you heat water up to a boil, let it sit for a minute or two.
Using boiling water can lead to disastrous results, such as having scalding liquid shoot out of the French Press, which can lead to injury.
• Third, don't press on the plunger at once when you pour in the water. Allow the water and coffee grounds to mix together.
In fact, stirring the mixture of hot water and coffee grounds will aid in the extraction process. Then, allow the mixture to sit for four minutes before plunging.
• Finally, when pressing down on the plunger, do not use excessive force. Just press down gently, and make sure that the plunger rod is absolutely straight.
If it goes crooked, the filter might not be snugly fit with the beaker anymore, and the coffee grounds will escape into the upper portion.
Then, french press coffee maker is very easy to wash. Just dispose of the spent coffee grounds after brewing. If you can, disassemble the filter assembly.
This will make it easier to access and remove coffee grounds that found their way between the different parts of the filter assembly.
Furthermore, most, if not all of the parts of coffee presses are dishwasher safe. If not, a thorough rinse in running water will help keep your French Press clean.
Finally, and probably the most appealing thing about owning a French coffee Press (as I like to call them) is that you don't need to spend a lot to own a good one.
In fact, with $20, you can get a good coffee Press. More specifically, the Bodum French Press, one of the most popular French Press brands today, is very affordable. The Bodum Chambord Coffee Press only costs around $30 and with it you can make rich and flavorful French Press coffee.

Other articles related to french coffee press
Stainless Steel Coffeemaker That Travels With You
Bodum stainless steel coffeemaker is affordable, easy to sue and is easy to carry around, no wonder many coffee drinkers consider it to be their best coffee maker


Is AeroPress Coffee Maker A French Press?
Aerobie's Aeropress coffee maker is a simple coffee brewer, but many people has ravings positive comments on the coffee that it brewed, easy to use and tasty coffee, that sounds like a great coffee maker man...


The French Coffee Maker
It is interesting to note that french coffee maker better known as french press might not be invented by the french after all.This does not mean anything, as these coffee press still serves great coffee


Chefs Choice French Press is Slightly Different
The chefs choice french press does not differ much from the usual french coffee press, but it saves you one step -the effort of boiling the water.


Is this Danesco French press really thermal?
At first glance, the danesco french press that is make of glass does not seems to have any thermal capability. The fact is, the double walled glass is the magic behind its thermal capability


How to use French press?
Article such as "how to use french coffee press" should not even exist because they are so easy to use. However, there are some pointers to note to brew really great coffee from the french press coffee maker


Bonjour French press can lock in the flavour
Bonjour french press is more than a functional and good looking french coffee press, it has a design feature that would lock in the maximum amount of your coffee flavor, ensuring a most flavorful coffee


Stainless steel French press from Bodum
The stainless steel french press from bodum has a very stylish look and feel. But, it has more than just look, it has ability to not only brew but keep your coffee fresh for up to 2 hours.


Best French press is by Frieling
The best french press should be from Frieling, a coffee press that is functional and stylish looking -that is how a best coffee press should be, don't you agree?


Bonjour Coffee Press shows you how reasonable it is
Some might think bonjour coffee press is just another brand for french press, it might be. But, no one can deny that at an affordable price, bonhour hugo press allows you to have good coffee anyway


This Thermal Coffee Press does not look like a Thermal at all
When it comes to thermal feature, you would think about coffee maker being stainless steel. Note this thermal coffee press, it keeps your coffee hot but it is make of glass...


French Press Coffee is all about the Basics
French press coffee is simple yet delicious. This proves that to get good tasting coffee, one does not need special skill set, or expensive complicated coffee makers...

---