Stainless steel French press from Bodum



The thing about the Bodum Columbia stainless steel French press pot is that it does not look like a tradition French press coffee maker.
It does not even look like one of the more well known stainless steel coffee press. A French press coffee maker is commonly associated with a cylindrical shape and design.
This is where the stainless steel Bodum coffee press simply does not look the part.
It has a more classically coffee pot shaped profile that reminds one more of an expensive thermal coffee pot than a French press coffee maker.
It has an elegant bulbous shape with a stainless steel handle that speaks volumes for the solidity of its integrated design. It just does not look lie a stainless steel coffee press; it looks better.
---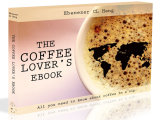 Love coffee? Here is some more "free stuff"! Learn more with this ebook (is free!)



---

The great thing about this range of Bodum stainless steel coffee press pots is that one is able to get them in a range of sizes.
They range from a third of a litre through a one litre pot up until a one and a half litre pot. That gives one a lot of choices as far as coffee pot volumes is concerned.
Being able to disguise a stainless steel French press coffee maker as an elegant stainless steel coffee pot must qualify as a design coup that will take some beating.
However, this particular stainless steel coffee press scores points on more fronts than just simply on appearance. Its double walled construction means that it has excellent thermal qualities. It is able to keep your coffee hot for just on two hours.
That means the chances of the coffee being ruined because of a drop in temperature is substantially reduced which in turn means that you are going to save on wastage. That is always good news.
As with many of the other stainless steel cafetieres, this one is also easy to clean. In fact the Bodum coffee press is dishwasher proof.
This means it can be thoroughly cleaned. So what? Once you have removed the lid and plunger, the stainless steel French press coffee maker is converted into a stainless steel jug.
It can be used to serve hot or cold beverages. It can even be used to make hot tea.
The thermal design will ensure that the beverage will remain hot or cold, depending on what it is that you are making.
So for the proverbial price of one you get a multi function server. Not bad for an item usually marketed as a stainless steel coffee press.