Starting a coffee business? These should help you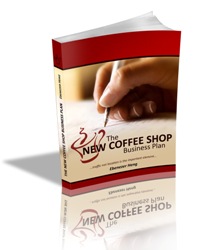 When it comes to starting a coffee business, the very thing that you would need is a business plan.
It is true that every coffee business has a business plan -no. But, having a business plan would make it easier. Check out why it is important to have a coffee business plan.
And if you are going to write a business plan, learn about what are the important elements you would need inside your coffee business plan.
To learn more about how coffee business plan, download our free coffee shop business plan.


If you are starting a coffee business, would you like to be throng by thousands of people per day? It can be offline coffee shop, cafe or even an online store. That would be great, don't you think so? You want to be Visible
---
These are searches for coffee related stuff on Google:
keurig coffee maker: 201 000 searches per month
best coffee makers: 14 000 searches per month
coffee makers: 1 220 000 per month
single serve coffee maker: 33 100 searches per month
under cabinet coffee maker: 6600 searches per month

---

Would it be good if some of these people goes to your site or store? This is good Visibility
Sure, if I am selling keurig, delonghi or some espresso machines, these numbers definitely seems attractive. But, I am running a coffee shop, cafe or an online store selling coffee, would it help me?
Well, do you agree that only people that likes to drink coffee bothers to "Google" for coffee makers and related coffee machines?
In fact, they would like it more than your usual folks because these folks that look for it, want to drink it at home!
So, what do we have?
Hundreds of thousands of coffee loving folks looking for coffee related information and for most of these searches, we (On Coffee Makers.com) are on the top page.
---
---
What is shown in the slide are a few pages that Oncoffeemakers.com have on the top page of Google, at the time of writing, we have more than 1000 pages of content and most of them enjoys high ranking.
If you are starting a coffee business, wouldn't you agree that some exposure to your brand, online store, coffee shop or cafe would be great?
If you are past the starting a coffee business stage, more traffic to your site to read and purchase your services and products definitely wouldn't hurt, right?
Play this slides to learn more about what other exposure you would get, i.e. 13 000 RSS subscribers, 23 000 twitters followers etc.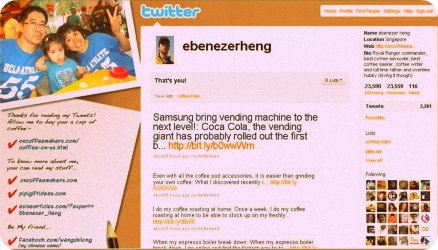 If you read until here, all these make sense to you, so check out some of our services listed below and we look forward to adding value with our services:
---
Profile Builder
Be visible to the right targeted Consumers. OCM profile builder showcase your company profile to targeted consumers who are looking for you.
Cost: $1.00 per day (terms and conditions)
PS: Promotion! First Month is only $1 for 1 entire month!
Learn more about Profile Builder to better your coffee business opportunities
---

Free Marketing
Promote your business without incurring any costs. This service from OCM allows you to showcase your products or services to its readers without spending any money!
Cost: $0.00
Get your free coffee shop business plan and other free marketing here.
---

Advice and consultation
Here is where you can asked questions on the hows and whats from starting a coffee business to growing it bigger. After working with many coffee and F&B companies, our insights and experiences would greatly benefit you.
Cost: $0.00
Let us help you with any questions you might have on that drive thru coffee business or any other F&B businesses.
---

Articles on managing and starting a coffee business
How to Determine If a Coffee Franchise Business Is Better?
Should you take up a coffee franchise business? Why not start a coffee business yourself instead? Here are some pointers to consider before deciding.


Different Types of Coffee Shop Business
You want to start a coffee shop business but do you know what type of business you are starting? Are you going for it alone, or riding on a Giant?


Coffee Cart Business -Only 1 thing is Important
Coffee cart business is easy to set up and not difficult to maintain, and there is only one factor to take note to make it successful.