Profile Builder: Do not let coffee business opportunities slipped away...
You need to grab all potential coffee business opportunities if you runs any forms of coffee business, agree?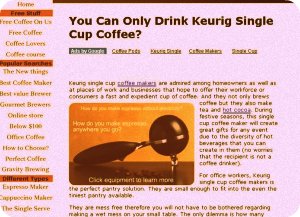 It could be a consumer looking for a coffee machine, a customer looking for directions to your coffee shop, or even a business person looking for a joint venture with you.
But, for any of these coffee business opportunities to happen, you need to be visible, people need to first see you then get to know you, trust you then do business with you. Note: Visibility
Here at oncoffeemakers.com, we would help you with being visible. With more than 1000 over articles, and a monthly traffic of more than 100 000 page views we would do a good job at this Visibility thingy.
Here are some examples:
1. You are a shop using bunn coffee makers, so readers that are reading bunn coffee makers are the ones that enjoys coffee brewed from it, they are more likely to go to your shop.
2. You have an online store that sells coffee beans, so consumers that look for coffee grinders are the ones that is most likely to get your products.
Here are just two examples, but basically, the potential is there.
---
---
You would be shown a profile (a static photo with copy to that page readers), only one profile per page.
So, how much would it cost to advertise and be visible? Here is how it would look like.
$1. Yes, we are charging you for $1 a day (Read here for Terms and Conditions).
Would I be able to advertise on any pages. Yes, other than the home page, you get to advertise on any pages. But a lot of them have since been taken up and we are only taking in limited slots per month.
So, to choose the best slot to display your profile, you have to quick:) Here is what is already taken up.
Get a slot for the profile builder at $1/day (Terms and Conditions), send us your photo and write out and start getting visible.
---
Profile Builder
Be visible to the right targeted Consumers. OCM profile builder showcase your company profile to targeted consumers who are looking for you.
Cost: $1.00 per day (terms and conditions)
PS: Promotion! First Month is only $1 for 1 entire month!
---