Melitta Take Two is for folks on the move



Melitta take two is there to mitigate at leats one inconvenience for people that travels. When people travel they often accept that there are certain basics that they will have to do without for the duration of the time that they are away from the comforts of their home.
This might include a cup of freshly brewed coffee virtually at their bedside. A Melitta coffee maker might not replace all of the comforts of home when you are on the road, but the
Melitta Take Two
might go some way to making the time away from home more bearable.
This is not one of the top end of the market Melitta Grind and Brew machines that are the treasured possessions of coffee lovers the world over.
The Melitta Take Two is a small coffee maker with a small price. It retails for between thirty and fifty dollars, is compact in design and comes with two travel coffee mugs.
---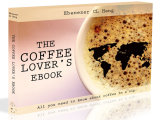 Love coffee? Here is some more "free stuff"! Learn more with this ebook (is free!)



---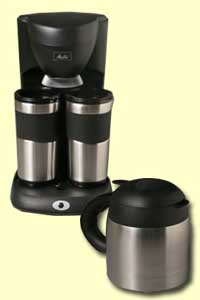 It is easy to operate and delivers fresh coffee where ever you desire to have fresh coffee. It does not have a permanent filter; one has to use paper Melitta filters.
This adds to the ease of the cleaning the machine. It has a few components that are easily disassembled for cleaning. With your Melitta one or two cups are the choices open to you.
This Melitta coffee maker has not been designed for the brewing of large quantities of coffee. The Melitta take 2 will provide sufficient coffee to fill two 300ml mugs. It does not use the single serve cartridge system which means that the coffee lover has the full range of coffee at his or her disposal.
The reservoir is easy to fill and it is also easy to read how much water the reservoir contains form the see through water level indicator. Once you are done, the serving spout is removable and the overflow tray is removable for easy cleaning.
Being a small machine it is important not to overload r overfill it and it is also advisable to place it on a level surface for operation; this applies of course to all other appliances and coffee makers as well.
A concession that is made in terms of the size of the Melitta Take Two is that its ability to deliver coffee that is very hot is limited. The other side of the coin is that the coffee is ready to be drunk immediately.