This is the Simplest among all Mill and Brew Coffee Makers



Mill and brew coffee makers are very appealing to coffee lovers since they get a coffee grinder and a coffee maker in one compact machine.
This particular characteristic of mill and brew coffee brewers appeals most to those who have very limited countertop space, and to those who crave freshly brewed coffee but not at the expense of convenience.
Some mill and brew coffee machines are fully programmable, which means that not only can they be set to brew coffee at a designated time, but also to grind coffee beans to a preferred grind size at a designated time as well, all without manually transferring coffee grounds from the grinder to the coffee maker.
Therefore, these programmable mill and brew coffee makers can be programmed to grind and brew coffee as you sleep or while you're coming home from work, for instance.
---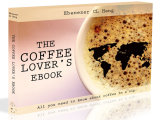 Love coffee? Here is some more "free stuff"! Learn more with this ebook (is free!)



---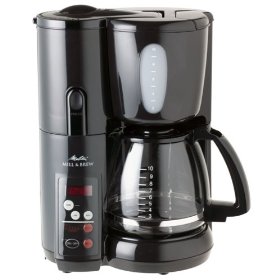 Once you wake up or come home from the office, a pot of freshly brewed coffee is waiting for you.
One such example is the Melitta MEMB1B, also known as the Melitta 10-Cup Mill and Brew Coffee Maker.
It is very deceptively simple, but is actually one of the best and most popular grind and brew coffee makers available in the market today, along with Krups coffee makers and Cuisinart coffee makers.
Don't let its simple appearance fool you; it's actually a very reliable machine. While its exterior isn't built of stainless steel, which is often seen in expensive coffee machines, such as DeLonghi coffee and espresso machines, the Melitta MEMB1B is built to last for years, even under constant use.
The built-in grinder of the Melitta MEMB1B can grind coffee into 7 grind sizes, from coarse to fine. The unit comes with a programmable timer, which can be set to begin the grinding and brewing process up to 24 hours in advance.
The MEMB1B also accommodates ground coffee, if you want to forego the use of its built-in grinder. The machine comes with a permanent stainless steel filter, which conveniently eliminates the need to stock up on disposable paper filters.
Its other features include a pause-and-serve function, a non-stick warming plate, 1 hour automatic shutoff, and cord storage in the rear of the unit.
Using the Melitta MEMB1B is easy. Just fill up the water reservoir with 10 cups of water. It has an easy-to-read water level indicator that lets you know how much water is in the tank.
Place a batch of your favorite blend of coffee beans into the stainless steel filter. Set the grinder to grind the beans to your desired level of fineness.
If you want to set the machine to grind and brew coffee at a later time, make sure that the timer is in sync with the current time of day, and then program the timer to set the machine to grind and brew coffee at the exact time of your choosing.
Otherwise, just set the machine to grind and brew coffee instantly without setting the timer.
Simplicity, convenience, and reliability --- all these characteristics make the Melitta MEMB1B one of the most popular mill and brew coffee makers in the market today.
If you're planning to avail of a good 10-cup grind and brew coffee maker, the Melitta MEMB1B is the best coffee maker for you.