Coffee on us means that you would get free coffee from us -folks from "On Coffee Makers"
Coffee on us, is a page that is designed to reward surfers with free coffee.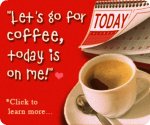 Throughout the site, we have given information on coffee and coffee makers, and we thought why not have a conduit to allow YOU, the readers to submit your thoughts.
Then, we thought if you would to submit your thoughts, we cannot allow you to write for nothing. So, we would "pay" you with a cup of coffee!
In addition, once it fulfills certain criteria, you would join in for that month contest. So, check out this month contest, and start joining in the fun!
---
Share your best coffee experience then get a coffee on us and win some prizes!
A chance to win $200 in prizes and definite $2.50 complimentary coffee for every published reviews when you share with us your best coffee experience.

If your entry got 3 or more comments, you immediately entered our Monthly Contest.

So, send in now and start promoting your entry to win that grand prize!

Contest is over, congrats to winners:)We are still giving free coffee for writing in though
PS: (click on link for more info)
Read about Other Best Coffee Experiences
Click below to see other entries and at the same time, monitor your "competition", note that the entry with the most comments would be on top, if you are not there yet, get more comments and ratings, promote your entry!