Learn How to Promote Your Entry
The easiest way to promote your entry and get more comments or ratings is of course to copy the link and emailed to your friends and relatives, and get them to put in their two cents. (more traffic)
But at this age and time, we are using a variety of platforms for communication, and we at On Coffee Makers have make it easier for you to spread the word.
At the bottom of your entry, you would find a little box that has all the major social media included. Here is what you need to do:

1. Select the platform that you have the most friends
2. Logged into your account (On Coffee Makers do not store your log-in or passwords)
3. Write a short message and send it to all your friends!
If you have a blog and a huge following, you can also copied the link to your entry and talked about it on your blog as well.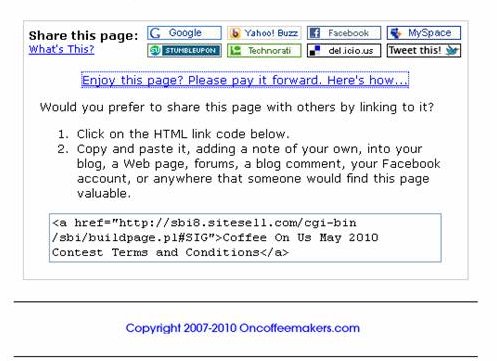 1. Click on the "Enjoy this page?..."
2. Then copy and paste the link on your blog.
If you have a few platforms, then by all means, do it a few times to gather more support.
However, we acknowledge that only liked minded people tend to give comments and ratings so send them to people you know that enjoys coffee.
Hope this helps you get more traffic and sales! So, hurry on and submit some products or services to promote!
cheers,
Chee Leng