Get better espresso grinders at higher price?
Espresso grinders are simply grinder that can grind for espresso extraction. And for espresso extraction, you need grounds that are fine enough to pack into the tamper.
So, while blade grinders does comes with espresso grind settings, personally I do not think that they can achieve the fine grind. That leave us with burr grinders and that is the default espresso grinders for most baristas.
Again, from the many burr grinders, you would then have to choose a right one for your own usage. The variety are dazzling, and I would use 2 espresso grinders on the extreme end of the price scale to discuss the pros and cons of each.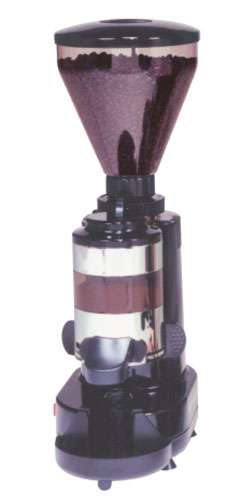 The premium pricing
One of the most premium espresso grinders comes from Grindmaster and while it boast of many features, I believe its burrs are the one that are making it expensive. And it is these European style burrs that gives you the fine grind for espresso brewing.
Of course, given its pricing, the grinder comes with a classic look and feel. It also automatically refill the doser when it is low and its steep slope hopper ensure smooth flow of the beans. It's added feature would be the tidy tray that is useful for keep your coffee corner neat and its double sided dosing levers are ideal for compact spaces and left handed.
There are a few features that from this grindmaster model that you would not see from other models. However, ultimately it is still the grind that matters and it is the good quality burrs from this grinder that is costing you close to $700.00.
The economical pricing
Then, on the other side of the price scale, you have the economical pricing of $69.00. I mean, what would you think when you look at the large variation of pricing? Would both grinders produce the same quality of coffee ground?


The Braun coffee/espresso mill is one such machine that retails at $69.00. Although it does not comes with so many features, it has the basic fineness control, which would produce espresso fine coffee ground.
Reading till here, you must be thinking who in the world would get a $700.00 grinder when he/she can get one for less than $70.00. Well, as mentioned earlier, there is a difference in the grind.
The burr and the quality of the burr right down to the motor powering it all makes a difference in the consistent and size of the coffee ground. It is difficult to say which is better, but rather what your coffee taste profile is like, so is espresso grinder better at a higher price, definitely, question is do I need that "better"...
Touching on the subject of "better", here are some articles for your consideration:



Wanna brew your ground with some coffee makers?

Is grind and brew coffee maker really better?

Grind and brew coffee maker does produce very fresh coffee, but if it is really better than other coffee machine, I leave it up to you to decide.