QR code marketing for coffee shops is very powerful!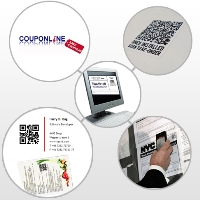 QR code marketing for coffee shops in Singapore has not picked up yet. And at the time of this article, we are the only one offering such services.
What is QR code
QR code is a code that is able to be scan by all smart phones such as blackberry, Android or iPhone. Once users scan the code, it would bring them to a website, a coupon, a video or a PDF.
The destination depends on what the creator of the code wants to communicate.
Learn more about What is QR code
---
Why it is so powerful
Imagine, nothing changes, you still have your namecard, but stick with a QR code on a video about your coffee shop.
We all know that not many people bother typing those long url to view our company details. With a QR code paste on the namecard, all they need to do is to scan it with their smart phones** and it would bring them to the destination.
**Smart phones would need to download a free apps in order to scan the QR code
In the case of a video, they would get to see the video about your coffee shops, which part of Singapore you are in and all the messages you want to communicate.
Of course, you can generate QR code for coupons, menu and your website. So, without incurring any additional cost, you can be doing promotions every month!
How much would it cost you?
The code by itself it free. The investment is on the ideas that take place behind the code. For example, if you want to design a coupon, you would need to spend a few hundreds, or to build a commercial, you would need another few hundreds.
So, the money spend is usually on the destination that you want to bring the users to.
---
Our recommendation
Our OCM marketing package, design the POS for your coffee shop, produce the video for your coffee shop, so with one package it solves all your worries.
You decide where you want to bring your customers to on any day, we would even generate and print the stickers for you***.
***We would generate up to 4 different QR code per month
For you, you decide which services and products you want to push and stick it on the namecards accordingly.
To start using the QR code marketing for coffee shop, sign up for OCM package for only
$398
Or, check out our OCM marketing package and learn about how they can compliment the
QR Code marketing for coffee shops
.
---
A video on QR code marketing


---