POS for coffee shops, are they worth the investment?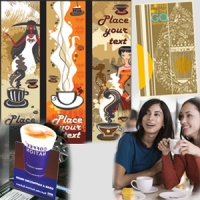 POS for coffee shops, or point of sales materials are seen as the essential items one must have in order to "make it" in the coffee shop business scene in Singapore.
You can be a local kopitiam, a chain like Starbucks of Coffee bean and tea leafs or even a stand alone coffee shop, you would need some communication materials.
You need it to shout out your star product, to communicate your current promotion or simply to attract people to buy your bundle deals.
But, is pos for coffee shops worth the investment?
Before, we go into the analysis on the return of investment, when talking about POS, we are usually talking about tent cards, wobblers, standees, banners and posters.
---
How much does is the POS for coffee shops?
Conceptualization
If you do not have any ideas for what to put or what promotions you want to have. They are hundreds of agencies in Singapore rushing to give you a hand.
For a fee of course. A single turn promotion concept can set you back by $400-500. Usually, they work on retainer basis ranging from $400 to $2000.
So, the very minimum that you need to pay would be at least $400.00.
Designing
Some agencies bundle the concept with design, most do not. A simple layout and artwork would cost you about $300-500.
So, expect to pay about $300 for designing of your posters, coupons etc.
Printing
Printing of a x-stand banner cost about $200. 5000 pieces of A4 flyers is about $400.00.
Generally, for a simple promotion, you would need to spend about $500-1000, just on the printing of materials. Of course, some of them are re-usable.
Total Cost
Regardless of the magnitude of your promotion, once you embark on one, expect to pay at least $1000.00 for it.
---
Our recommendation
You want to do promotion because it would bring in the traffic, right. Isn't it better if you can do it on a regular basis?
Learn our OCM marketing package. We take care of all the design and graphic stuff. And you only need to pay less than one third of what you would be paying.
In fact, what you are paying for a single promotion, is enough to get our OCM marketing for about 3 months!
In addition, it is more than just POS for coffee shops, the OCM marketing package comes with a wide array of other tools to help you market your coffee shop!
OCM marketing package is only selling at
$398
---
A video on what you would get with the OCM marketing Package


---