Technivorm coffee maker -Moccamaster
You heard about the technivorm coffee maker? Or, have you heard about the Technivorm Company?
This company is one of the known manufacturers of home appliances. Its factory is located in the central of the Netherlands and they were able to serve different customers around the world.
Each Technivorm coffee maker are produced and designed under the ISO 9001:2000 regulations, which means that their products are of high standard and are designed for safety.
As the company continues their journey on creating their products, until now, they were guided by these three philosophies.
"To produce totally reliable equipment simple to operate providing the maximum satisfaction to its users through being completely dependable." (By Technivorm)
---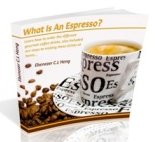 No, you do not need a super automatic espresso machine just to make a nice espresso at home. You can do that with a simple home espresso maker.
In this Free Ebook, "What is an espresso?", you would learn the basic of making the various types of espresso based drinks


---

"To contribute towards the resolution of the world's pollution and waste problems by the manufacture of high quality and energy efficient "long life" products." (By Technivorm)
"To use only recyclable or fully degradable materials in the manufacture of our quality products." (By Technivorm)
One coffee maker that Technivorm created and introduced in the market is the Technivorm Moccamaster KBT-741 Clubline.
This coffee brewer are assembled and manufactured by hand and they tested it in live circumstances individually. This coffee brewer can handle a maximum volume of 1.2 liters.
This brewer is created with simplicity and it's also a quality product.
The main advantage of this Technivorm coffee maker is its capability to keep the perfect temperature of the coffee the whole time of brewing cycle. This asset makes this coffee maker to gain certification on some associations of coffee trading.
When talking about its features, well, you might want what you're going to find out because its features are unique.
As we all know, one key for preserving the aroma and freshness of coffee is to maintain the consistent temperature, and the good news is Technivorm Moccamaster KBT-741 Clubline does that.
It makes use of a self-regulating energy-efficient heat exchanger and it brews straightly into the ThermoJug server that is made up of stainless steel.
With this, your coffee keeps its finest temperature between 194- 204 degree F.
When talking about the speed of brewing, this Technivorm coffee maker can raise up to that. This is because it can brew a full pot of coffee from 5 to 6 minutes.
With this time, you can assure that the coffee it brews is rich and full-bodied.
Other features of Technivorm Moccamaster KBT-741 Clubline include: 9-hole sprayhead, visible scale indication, copper boiling element that comes with double safety guard, and illuminated on/off switch.
Like the other coffee maker, this Technivorm coffee maker is reasonably priced. You can purchase this coffee machine in around $200.
One good online store where you can purchase it is at Amazon.com. You will definitely love the terms and services of this online store.
Technivorm coffee maker like Technivorm Moccamaster KBT-741 Clubline is another invention that you won't resist. If you are into drinking a full-bodied and rich coffee, then this coffee machine is best to have.
Not what you are looking for? It might be just a italian coffee maker you have seen or more indepth coffee machine ratings you want to know, our homepage with its extensive range of articles would have what you are looking for.