How to Choose Single Serve Coffeemaker?
If you are that person who prefers to have a perfect and flavorful cup of coffee one at a time then consider single serve coffeemaker.
This kind of coffee maker has the ability to give you that perfect cup of coffee whenever you want it. It can deliver you that coffee you want in within one minute.
Single serving coffee makers are very easy to use and maintain. As a matter of fact, even children who have a little knowledge about coffee makers can brew coffee with this.
There are no complex and difficult details to deal with. All you have to do is to put the pods and K cups and then press that button. It requires only a very simple and quick step.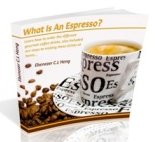 No, the fact is you do not need a fully automatic espresso machine that costs thousands of dollars to enjoy espresso at home.
You can use simpler equipment like a bialetti. Learn more about it with the free Ebook "What is An Espresso?"


---


Single serve coffeemaker comes with different styles. The three styles of this coffee machine includes automatic drip coffee maker, French press, and the pod coffee machines.
Each of these coffee makers has its advantages and disadvantages when it comes to their price, ease of cleaning, ease of use, and the kinds of coffee that is compatible with them.
When it comes to choosing the best and perfect single serve coffee maker, there are actually more things to consider.
However, some people find it difficult and very tiring to choose because of the huge number of this machine. They come with different brands, models, sizes, shapes, and colors.
With their numbers, you should consider some of the criteria in choosing single serve coffee maker.
These criteria will definitely help you a lot and it will make your choosing more easily. Here are some of the criteria that you can consider:
1. Do you just drink coffee or would be drinking other beverages?
If you prefer drinking only coffee everyday then the Nespresso single serve coffeemaker is best.
This kind of coffee machine is also very easy to use and easy to maintain. They are automatic so preparing the coffee with this is only with a touch.
2. Do you like variety of drinks from branded companies?
If you are into drinking different variety of beverage, then Keurig would be best.
With the K cups that this coffee maker uses, you can have a lot of beverages to choose form. This coffee maker is ideal also to those who don't want cleaning up their coffee machines.
3. Are you looking for low cost budgeted model?
If you are up to choosing the single serve coffeemaker that is inexpensive and affordable then either Senseo or Melitta would be the better choice. These brands have several models to offer you.
So, when choosing a single serve coffeemaker, you should have to consider some of the criteria. With this, you will be able to choose the coffee machine that suits your standard.
If you are looking for specific single serve like melitta pod coffee maker, or maybe you like to read know more about these coffee machine ratings, check out our homepage for more information