Mypressi portable espresso maker, it is in Singapore?
Would you even care if this portable espresso maker, Mypressi is in Singapore? You should if, you think espresso meant baristas (diffcult), you are spending at least $3.00 on cappuccino daily and you always wanted to be a baristas. :)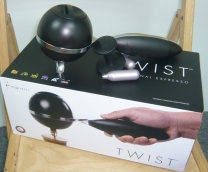 On Coffee Makers is proud to be the reviewer for Mypressi Twists that is being distributed in Singapore by Beacon Coffee Pte Ltd.
This portable espresso maker would changed your view about espresso making and possibly changed the way people in Singapore have their coffee.
1. Espresso meant baristas, very difficult to do lah...
This is the typical mindset when it comes to espresso or any of the gourmet coffee such as cappuccino, lattes etc. Just remembering the names is tough - what is the difference between an Americano and a Macchiato?
With Mypressi, you still need to tamp a little to pack it tight into the filter port, but that is all. No complicated buttons, or whole string of process to remember.
Step 1: Scoop in the coffee powder
Step 2: Tamp a little, make sure is tight
Step 3: Fix the gadget (easily) and add in the water
step 4: Press a button and enjoy your espresso
Note: You might be thinking if such a simple device can be considered espresso brewing. The fact is, this portable espresso maker does 9 bar of pressure, much more than any steam espresso machine in the market!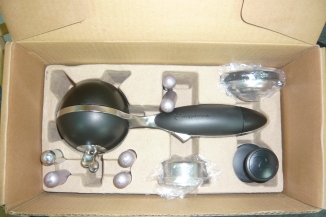 2. You are spending at least $3.00 on cappuccino daily
If you worked 5 days a week, 40 weeks a year, that would be a whopping $700.00 just on cappuccino.
With mypressi, even if you purchase coffee ground (house blend) from starbucks, the total costs worked out to less than $0.70, which is cheaper than the kopitiam kopi!
If you drink from mypressi (still starbucks because you buy the coffee grounds from them), you would saved at least $500.00!
3. You always wanted to be a barista
This handheld espresso maker is not only a beverage maker, it is also a talking point. Can you imagine the conversation that it would generate as you prepare espresso using mypressi for your friends?
You might not have the opportunity to attend baristas training or "pulled a shot" from la pavoni espresso machine, but you can now be a baristas in your own right -with mypressi.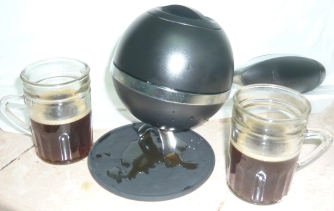 But, how is the espresso -it is good? It is. Sure, there are better espresso from commercial machines, but are you going to spend a few hundreds and weeks learning how to operate a rancilio espresso machine?
With Mypressi Twists, the espresso is good, it is easy to use and in the long run it saves money for the owner. So, to us this is a pretty fine piece of equipment.
This is a new product and to manage expectations, do place a reservation (once you are contacted on your allocation, you can then decide if you want to go forward with the purchase).
Awed your friend by being the first to owned this handheld portable espresso maker, fill up the form and you would be contacted only on its availability.
---