I bought this Mukka Express because it is so Cute!!
As we all know, cappuccino and espresso's are one of the few drinks that people prefer to drinks during their break or even in the morning as they wake up from bed.
There are lots of coffee machine out there that has the capability to produce and create these drinks but the best among them all is the Mukka Express by Bialetti.
The story of Bialetti Industrie began in 1919 when Alfonso Bialetti comes home from France. In that same year, he also established his machine and metal workshop that is located in Crusinallo.
His workshop was established to make and create Aluminum products. In 1933, Alfonso Bialetti launched a simple yet elegant espresso maker, the Moka Express.
The coffee pot became the company's icon singe the year 1950. It became every popular in Italy and most Italian people prefer to buy this product.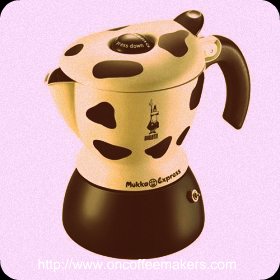 This is really great and perfect for Italian kitchens. Until now, Bialetti Company continuous to produce and design different models of Moka Express. They're the tight company to look for when it comes to espresso or coffee pots.
Mukka Express is one of the different models of Moka. This coffee pot is available in two different versions. Each of these two versions comes with distinct personality and attractive fresh design.
One of them had a "cow" design and the other is polished with aluminum, which makes it looks elegant.
Using this stovetop espresso maker is definitely very easy. All you have to do is to combine water, coffee grounds, and milk in the pot.
After that, you can now place it on top of the stove. You also have to push the central button in for frother activation. However, if you prefer to drink latte then you must let the button up.
Cleaning the Mukka Express is not a problem. This is because some of its parts are detachable for ease of cleaning. You can rinse it with tap water and you can use dishwashing soap as well.
However, you have to avoid using abrasive foams when washing because this can destroy the exterior finish.
If you and your couple love to drink espresso to start your day, then this espresso pot is the right one for you to get.
This is ideal for you to use because it can only produce 2 cups of espresso, which is perfect for the both of you.
Not because this coffee pot is made up of Aluminum material means that you cannot hold it after the brewing process s done.
Well, it has a heat-free handle feature which does not allow you to burn your hands in serving the espresso. This feature was designed for your safety too.
Mukka Express is the thing for you to have if you are that person who loves to drink cappuccino. You can also make lattes with this coffee pot.
Want to know more about other coffee makers, then do check out our homepage for more information.