Only one mr coffee espresso maker that meets the mark!






There 5 mr coffee espresso maker that supposedly can brew espresso for you, but here in this article that out of these 5, only one can brew the real espresso! As usual, I acknowledge that different brewers appeal to different individuals, but if you want good espresso, only the ECMP 50 can delivers.
At the time of this article, there are 5 different types of
Mr Coffee espresso maker
, but unfortunately all of them are steam driven safe one, the ECMP 50. And it is only the ECMP 50 that can deliver the pressure of more than 12 bars.
There is a reason for steam driven espresso machines, the most obvious is the cost factor. Steam driven machines can go below $100 with some going as low as $30. Which prompt me to ask, if it is possible that an espresso machine is cheaper than a drip filter machine?
However, other than the cost factor, there are not many value add of the steam driven machine can provide. Firstly, the speed that it would take to brew a beverage is long. This is because the speed of your beverage would depends on the heating of the boiler and from the feedback about Mr coffee stable of steam driven machine, they are pretty slow.
The slow brewing meant that this is a machine for individual or a small gathering, it would frustrate people waiting for the drink if you are thinking of using it for a party.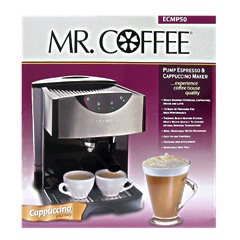 Then, because the frothing would need to share the steam, you can only make limited beverages before you need to heat up the boiler again. For example, if you make 3 espresso, you can only make 1 cappuccino.
The most important factor about steam driven machine is the temperature factor. Because, it is steam driven, the water that is used to extract the coffee ground is always close to boiling point and this tend to burn the coffee, resulting in bitter taste.
If you are interested to know more about temperature of coffee, you can check out our free coffee course. So, do not assume that all bitter coffee are intense coffee, there is a great difference between burnt and smooth extraction.
But, the most daunting thing about using a steam driven machine is the lack of pressure. When you extract coffee with low pressure, your coffee is lifeless, it might be bitter but you can taste the watery feeling, it is more like coffee water and not espresso.
The good thing is Mr coffee has came out with the ECMP 50 that is able to extract coffee with a 15 bar pressure, uses a thermal block heater for faster heating and a very powerful frother nozzle.
It seems that my observation is similar to many others and by introducing this mr coffee espresso maker ECMP 50, they are augmenting the wrong that they have done with their previous espresso machines.
I guess this Mr Coffee espresso maker is not the best machine, but if you are looking for an espresso with beautiful crema, this machine is definitely able to achieve that!