Lever espresso machine specialist in Singapore
The only lever espresso machine specialist in Singapore that we know of is Transz Coffee and it is good to know that at least this genre of espresso brewing is represented in Singapore.
We are all familiar with the term "pull a shot of espresso", and this is best reflected in La Pavoni espresso machines.
Now, before moving on as usual to talk about how good the pavoni espresso machines or whether lever espresso machine is better than the usual espresso brewer, some insights into this lever espresso machine specialist in Singapore -Transz Coffee.
---
Learn more about La Pavoni Bar V2


---
Transz Coffee is not just your usual out of the mill espresso machine provider but a specialist that holds the exclusive distribution of La Pavoni lever machines in Singapore.
They have a few variety of lever espresso machine known as 2,3 or 4 groups (it meant how many levers there are in each machine), and the main difference between lever and conventional machines lies in the lever (pulling feature).
These chromed brass groups that comes with a patented special device allows the hot water into the group, keeping the brewing pressure at the same level.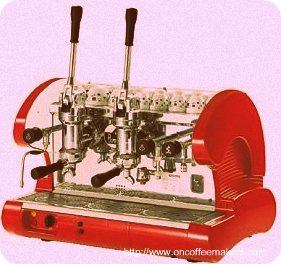 And we all know that consistent pressure is what gives rise to perfect espresso.
Upon invitation by Transz Coffee for a tasting from Modello Bar L pavoni coffee machine, we were amazed at the smoothness and quality of the espresso.
Our mental model tells us that pump pressure would not outshine mechanical movement but the spring assisted mechanical movement of the lever works wonder in brewing the espresso.
We would expect many of these machines to be seen in Singapore in the next coming month. Three reasons for these are:
1. The lever espresso machine from La Pavoni is already well known and reputable. Models such as pavoni europiccola or pavoni napolitana is well known and familiar amongst the coffee community locally.
2. Transz Coffee would be promoting it in the biggest F&B event in Singapore, Food Hotel Asia 2010, knowing their service quality they are bound to sign up quite a number of customers.
3. The Modello Bar L is a beauty! If you are shopping for a commercial espresso machine and you saw this lever espresso machine, you would be taken by its sleek and elegant outlook.
This machine would be a talking point when placed in your cafe or restaurant.
---